A number of stair lift dimensions can be seen in the market. And choosing one may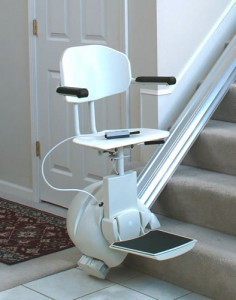 seem like a handful.
To make a detailed choice, then, you may need to learn and understand a few things about some of the various brands of stair lift to know more about the number of stair lift dimensions that are out there for you.
Here are the varieties available:
The Acorn Stair Lift
This brand in the market uses rechargeable batteries for operating it. You can choose to control it with the joystick or the use of infrared remote controls. Many find this very easy and convenient to use since all you need to do is to push the start or the stop button to control your motion.
Since this brand uses about eight rollers for movement, sitting on it will make you feel more stable and safe since your weight is evenly distributed, and is anchored by the rollers underneath.
The Acorn Stair Lift has different dimensions for its various parts.
For its overall height, the sizes would be around 40 inches or 1020 mm. Its overall width is about 22 inches. Its depth is around 23 inches when in use, and about 13 inches when folded.
The height of the seat is around 19.5 inches. The depth of the seat would be about 16 inches. The measurement for the width of the footrest is around 305 mm or 12 inches.
The Summit or AmeriGlide
For a smooth and whisper-quiet glide, the Summit or AmeriGlide can be a good choice to purchase.
This brand is actually leak-free since the gear box, with vent plugs, is tightly sealed.
What's more, this model is really useful in detecting blockages in its way and quickly informs the user that it may bump at something along its path. The sensors on the foot rest of this model are the ones that are responsible for this feature. There is also a limit switch that makes the chair stop either at the top or bottom of the stairway.
It offers around 21 inches of seat capacity. Its dimensions for the cable would be around 3/16 to about 1/8 for others.
The Stannah Stair Lift
This type also runs quietly and gently along the stair cases just like the other two brands. It uses a battery to provide its powerful ascent or descent. This battery automatically charges itself as soon as it makes a stop either at the top or bottom.
You can use this for both curved and straight stairways since it offers a wide range of designs for these two purposes.
Dimensions for this type that can be most preferable to you may include 150 mm for its length, 65 mm for its width, and 92mm for its height. Other models have specifications of around 63.5cm wide, 96cm tall and 71cm deep.
These stair lift dimensions vary from model to model. And while you may closely look at the different specifications in measurements, you may also have to consider the size of the place where you would want your stair lift model to be installed.