To make your traveling easier, it is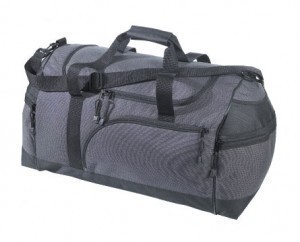 important to have your own travel bag to keep your things. These bags usually have different travel bag dimensions that can be both functional and stylish.
As mentioned, a lot of styles carry various travel bag dimensions. The various styles come as duffel bags, messengers, rollers, totes, carry-alls, and backpacks to suit your various needs.
The Duffel Bags
Duffel bags usually come as a soft-sided travel bag that is rectangular and boxy in shape. These have handles that makes it easy to use and carry everywhere you go. These types also have adjustable straps for the shoulders, too.
Most of these types are sold in good condition with sizes of around nineteen by thirty three inches for its dimensions. Some have dimensions of about 20 by 10.5 by 12 inches. And others are created with dimensions of 16 and ½ by 15 inches.
The Messengers
The messengers are a middle-sized type of travel bag. Its style is more casual with a strong shoulder strap and flap enclosure. Its dimensions come around thirty four centimeters by forty one centimeters by fifteen centimeters for measurements for its length, height, and depth. Others are made with dimensions of around 16.5 inches by 11 inches by 5.5 inches.
The Rollers
These types of travel bags are called as such because they have rollers or wheels for easier handling. It is similar to a small suitcase, and has a very convenient handle that you can extend.
The dimensions for the rollers come in at about twenty three inches by sixteen inches by nine inches. Some are sold with dimensions of around sixty eight centimeters by thirty two centimeters by thirty two centimeters. And you may also find some rollers with sizes of approximately 29.5 inches by 18 inches by 9 inches.
The Totes
Most of the tote bags around are sold as either a casual tote made in canvas or leather. These are designed to carry many personal items since these have a couple of pockets or dividers. The dimensions are about fifteen by thirteen by five inches. Others have around seventeen by fourteen by five inches.
The Carry-Alls
The Carry-all bags have sizes of around twenty four by thirty two inches. Others are sold with dimensions of 15.5 inches for its length, around 4.25 inches for its width, and 15.5 inches for its height. These carry-alls are really made to carry all your things. It is actually like a tote bag but carry-alls have more features added to suit the bearer.
Backpacks
Backpacks come in all sorts of sizes and styles. The usual dimensions are around 350 mm by 450 mm by 200 mm. Other creations in the market have overall dimensions of around 16 inches (H) by 14.5 inches (W), and ten inches (D).
There are many travel bag dimensions being sold. To make a wise choice, you must learn a bit about each type of travel bag to see what their dimensions are.