Queen Mattress Dimensions
The size of a queen mattress is 60 x 80 inches. That's about 153 x 203 cm.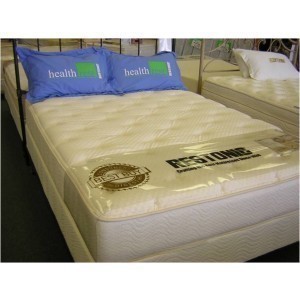 Some manufacturers will add or subtract an inch, so check the specifications.
Comparing with Other Beds
This makes the queen mattress 6 inches wider than the full bed and 5 inches longer. In terms of total space, it's bigger than the full bed by several inches. It is equivalent to roughly 3 ft more sleeping area for a couple.
Lengthwise, the bed is the same as a king size bed. Besides the size, the following elements need to be considered when you shop for a mattress.
Warranty Issues
Whatever differences in the size of a queen mattress, they'll all have warranties. A good warranty is one that lasts for ten years. Don't buy any mattresses with warranties lower than that figure. If you can find a bed with a longer warranty, buy it.
Mattresses and Health Concerns
If you have back problems, you'll need to be more discerning. Sleeping on the wrong mattress will aggravate your condition. Look for a mattress that has been specifically designed for people with this ailment. Individuals with blood circulation problems may need flexible mattresses. Read the product descriptions so you can make the right decision.
Choosing Brands
Aside from the size of a queen mattress, the brand should be considered too. You can ask your friends for recommendations or you can stick with the one that works for you. Some people like to buy based on band names, while others don't. It's simply a matter of choice.
Coping with Allergies
Avoid mattresses that produce dust. Latex doesn't generate dust, and neither does foam. Water mattresses are also good choices for people with skin allergies. Hypoallergenic mattress covers can be purchased as well. There are different variants, so go over their features thoroughly.
Other Things to Consider
Look for beds that use memory foam or latex rather than coils. Unlike coils, foam beds are visco-elastic. What this means is less pressure on the head and contouring to the physical figure. All of this will translate to greater comfort. There are many types of visco-elastic mattresses, so you'll need to do some research.
The size of a queen mattress isn't the only thing that varies among these products. There are also their adjustment capabilities.
Consider getting an adjustable mattress if you are particular about the firmness. Adjustable mattresses work in different ways.
Basically these mattresses have electronic components installed that modify the softness and firmness. This is ideal for couples whose softness needs differ.
Mattresses today come with various features. They can be quilted, organic etc. The thickness also varies; all of these things need to be considered. Finally, don't forget to try them out. You may have the dimensions right, but the best way to check the mattress' softness is by testing it.
The size of a queen mattress is just one aspect you must consider. All of these other factors mean doing some extra research and legwork, but it is necessary.