Developed sometime in the 19th century, a pilsner is a special type of beer,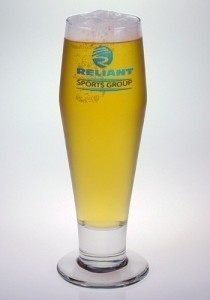 specifically pale lager. Its name was derived from one of the cities in the Czech Republic, namely Plzen. It is good to drink this type of beverage on a pilsner glass. A slightly bulged area, a rounded taper and a short neck characterize this glassware. Aside from these facts, it is also interesting to find out the different pilsner glass dimensions.
The Dimensions of a Pilsner Glass
A pilsner glass comes in various sizes. The glass with a 12-ounce capacity stands 6 inches high. The bottom diameter is 2.5 inches while the top diameter is 3.25 inches. Aside from this, there is also a 16-ounce capacity glass, the dimensions of which are 8.38 inches by 2.88 inches. This kind of product approximately weighs 0.93 pounds. The 22-ounce glass is taller, the height of which is about 9 inches.
Additional Facts and Other Interesting Details
In October 1842, a Bavarian brewer named Josef Groll invented the modern pilsner. During that time, he worked for the brewery Plzensky Prazdroj. For this, he used new techniques, one of which included paler malts. The result was a golden beer, which easily became a hit amongst beer drinkers. For this, he combined Bavarian-style lager, noble hops and soft water. It first reached Central Europe after the communications and transport improved in the area.
In the latter parts of the 19th century, German engineer Carl von Linde introduced modern refrigeration to Germany. This important development erased the need for caves, which was the usual process for storing beer. At the same time, it also led to the brewing of bottom-fermenting beer in various places. In 1993, the process of brewing pilsner was enhanced even further, thanks mainly to the development of big cylindrical tanks. Some historians believe that this beverage is the first-ever golden beer in the world.
The modern version of this drink is described as clear and very light. Its color ranges from golden yellow to pale. More importantly, it has a very nice taste, thanks to its distinct flavor and aroma. The pilsners in the Czech Republic prefer a pilsner that is lightly flavored. This is true for leading brands like Staropramen and Pilsner Urquell.
On the other hand, a German-style pilsner is bitterer in taste with a bit of earthy flavor. Some of the known German pilsners are Beck's, Augustiner Pils and Aktienbrauerei Kaufbeuren Jubilaums Pils. The same rich taste and flavor can be expected from Henninger's Kaiser Pilsner, Flensburger Pilsener Furstenberg as well as Wernesgruner.