The mattress size is one of the most critical elements you must consider before making a purchase.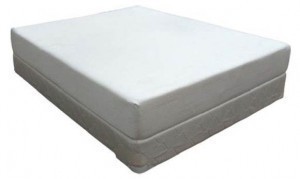 The various bed types have different dimensions. The one that fits you will depend on what you need.
Mattress Dimensions
A crib mattress measures 28 x 52 in. The single or twin mattress measures 39 x 75. The double or full measures 54 x 75 in while the long twin is 36 x 80. The queen has dimensions of 60 x 80 and the king 76 x 80. The California King measures 72 x 84. There are no standard measurements for depth. Some come in at 9 in while others reach 15 in or more.
Aside from the mattress sizes, there are other factors you need to mull over before buying a bed or mattress.
Your Health Condition
People with back problems need mattresses that have strong and firm support. A bed that makes the body sink in might cause more back problems. Some mattresses contour to an individual's physiology. This might prove helpful to those with blood circulation issues.
Other factors that need to be considered are skin allergies. Some people develop allergic reactions to certain fabrics. Those with sensitive skin should opt for latex, water or foam.
These materials are ideal because they don't generate dust. Besides the mattress size, you should get a hypoallergenic cover. This will keep your allergies at bay.
Foam vs. Coils
Mattresses will use coil or foam or latex. If buying mattresses with coils, examine the cross sections closely. However those with foam or latex are better options. These are the ones that conform to the body's shape. Another feature you might want to look at is the adjustability. Called air mattresses, these beds have changeable softness levels.
Other Factors to Consider
Since you can test these mattresses, take advantage of it. Lie on the bed for a few minutes. You should also look at the warranty and what materials were used to make them.
While you don't want to scrimp, looking for discounts is always a good idea. A good time to look for mattress sizes and brands is the holidays. Stores will offer sales so you should take advantage of it.
Tips
Medical experts recommend you replace the mattresses once a decade. But if the mattress is firm, there's no reason to. By the same token, don't wait for ten years if you're feeling back pains now.
The 30 day trial / money back guaranteed will let you test it. Consult your doctor if you have back problems. They'll be able to recommend the right type of mattress for you.
Even during sales, the good mattresses will probably cost more. But you need to invest some money here. The good ones aren't just comfortable. They're also durable so it will turn into savings in the long term.
The mattress size is one factor to consider when buying. But as you can see there are other elements that must be assessed too. If you keep this stuff in mind, it won't be long before you get the mattress that suits you.