Elevated Toilet Seat Dimensions
The elevated toilet seat or toilet seat elevator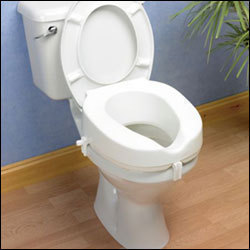 is used to raise the height of the toilet. The toilet seat elevator can be particularly useful for elderly folks or those having difficulty with low seats.
Elevated Toilet Seat Dimensions and Features
These are available in a variety of sizes just like other toilet seats. Make sure you choose a riser that you are comfortable with. The height increase will vary per product, but 3 inches is very common.
Like the typical toilet, these elevator toilet seats are hinged. This feature makes the unit easier to clean up. This feature is also handy when the toilet is going to be used by males.
There are some things buyers should look for. First, the seat should be easy to install. Make sure that the package includes mounting bolts so you can fit it more easily. These are usually installed below the present cover and toilet seat.
When checking out elevated toilet seat dimensions, keep in mind that these products are available for elongated and regular bowls. Make sure you pick one that is suitable for your toilet seat. The typical interior bowl measurement is 11 inches for regular and 13 inches for the elongated bowl.
Factors to Consider When Buying Toilets
These elevator seats are available in many colors and styles. While there are many designs available, it is better if you pick colors and hues that will match the current toilet bowl. If you are planning to renovate the whole toilet, then you can check out some catalogs and online sites for inspiration.
The current toilet shape will determine what type of elevated seat you can get. If you aren't sure if the toilet is regular or elongated, you can measure it. Get a steel ruler or measuring tape. Use it to calculate the distance between the hinges and the jaws' front.
The cost is another matter to consider. It's a good idea to look at different stores. This will give you an idea of how much these products cost. Don't forget to factor in the cost of the shipping before you buy them.
Reading some reviews will also help particularly on how easily it can be installed. Any problems with the unit may also be mentioned in the reviews.
When it comes to elevated toilet seat dimensions, the height is what most people look at. However, you cannot neglect the other aspects like the length. You need to be sure it will really fit with the toilet you have right now.