There are many candidates for the smallest and lightest laptop computer model. Manufacturers are always trying to come up with lighter and newer designs. Below are some of the smallest laptops currently available.
UMID mbook M2
The UMID mbook M2 weighs less than a pound. It has a resolution of 1024 x 600 pixels and a 4.8 inch display. The laptop can have an Intel Atom 1.6 GHz or 1.2 GHz processor. Up to 1 GB of RAM can be installed.
A 32 GB SSD or 16 GB storage space may be installed. Some of the features that may be installed are a microSD memory card slot and a 1.3 megapixel camera. A 3G sim card slot can be installed to provide Wi-Fi functionality.
The UMID mbook M2 comes with a VGA output and USB port. A full charge gives you 4 hours of continuous usage. It runs on Windows 7.
Sony VAIO Lifestyle
The Sony VAIO Lifestyle is also one of the lightest laptop computer models around. It weighs 1.4 lbs and measures 9.7 x 4.8 x 0.8 inches. It comes with a 64 GB SSD hard drive and 2 GB of RAM. It sports a 1.33 GHz Intel processor. The resolution is 1600 x 768 pixels set on an 8 inch display.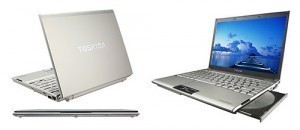 Some of the extra features are a built-in GPS functionality, microphone and a webcam. The Verizon service allows you to use wireless mobile broadband.
The Sony VAIO Lifestyle has support for Windows Vista, Bluetooth and Wi-Fi. It has slots for a memory stick duo and an SD memory card. There is also a VGA output and USB ports. The battery life is good for four hours.
Asus Eee PC T91MT Tablet Netbook
The Asus Eee PC T91MT Tablet Netbook weighs 2.1 lbs and measures 8.9 x 6.5 x 1 inches. The processor is a 1.33 GHz Intel Atom Z520 and 32 GB of SSD storage. 1 GB of RAM is included, with 2 GB as an option.
It also comes with an 8.9 inch screen. A full charge will give you 5 hours of usage. There are a couple of SD/SDHC memory card slots included. The laptop runs on Windows 7.
It is nice to have the lightest laptop computer as carrying it becomes less of a chore. That being said, it is important that you keep the features in mind. To keep it light, some units have fewer components installed.