How High is Mount Ararat?
Also called Mount Masis in Armenia, Mount Ararat is a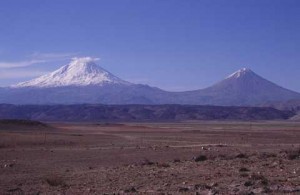 dormant volcano situated in Turkey. It is found in the easternmost part of the Igdir Province, right within the Eastern Anatolia Region. Furthermore, this place is said to play a highly significant role in Armenian irredentism and nationalism. Aside from these facts, there are many other interesting things to learn about it including the height of Mount Ararat.
The Height of Mount Ararat
How high is Mount Ararat? Mount Ararat has two peaks, namely Lesser Ararat and Greater Ararat. The former has a height of 12,782 feet or 3,896 meters, while the latter has a height of 16,854 feet or 5,137 meters. Greater Ararat is the highest peak in the Armenian plateau as well as in Turkey. Its prominence is ranked 48th worldwide, which measures 11,847 feet or 3,611 meters.
Additional Facts and Other Important Details
Mount Ararat is a stratovolcano. Its last eruption took place in 1840. Baltic German naturalist Friedrich Parrot made the first successful ascent, which happened in 1829. He was aided by Armenian writer Khachatur Abovian. They crossed the Aras River. After that, they went on to Agori, an Armenian village situated 4,000 feet above sea level.
The exact location of this place is subdivided between two different provinces in Turkey, namely Agri Province and Igdir Province. About 35 percent of it is found in Agri while approximately 65 percent of it is part of Igdir. This mountain has no volcanic crater.
In 1845, a German mineralogist named Otto Wilhelm Hermann von Abich sought the help of Abovian to climb the mountain. In 1846, Abovian went on to make his third and final ascent to the mountain, this time with an Englishman named Henry Danby Seymour. In 1856, British Army officer Robert Stuart led a group comprised of five explorers to climb Mount Ararat.
Nowadays, people need a climbing permit from the Turkish government if they wish to go up Mount Ararat. Likewise, they have to go with a certified Turkish guide before they can climb their way up the mountain. It usually takes a couple of months to complete such arrangements.
This mountain is highly significant to Armenian nationalism because it dominates the Yerevan skyline, which is the capital of Armenia. It symbolizes the irredentism and national identity of Armenians. In 1991, the Republic of Armenia decided to make it a national symbol. Later on, its image became part of the country's coat of arms.