How Big was Hurricane Isabel?
The maximum size of Hurricane Isabel was 165 mph (270 km/h).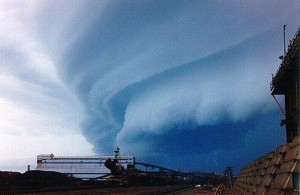 There were 16 direct fatalities and 35 more indirectly. The total cost of damage was $3.6 billion in 2005; it is worth $4.8 billion in 2009.
Places Affected by Hurricane Isabel
The hurricane struck Greater Antilles and several states in the eastern United States. Among the most affected areas were Maryland, Pennsylvania, Michigan, North Carolina, West Virginia, Delaware and New York. The Bahamas and Washington D. C. were also hit.
Formation and Path of Hurricane Isabel
Isabel emerged from a tropical wave on September 6, 2003. The hurricane headed northwest and gained strength. The maximum size of Hurricane Isabel (165 mph, 270 km/h) was attained on September 11. The storm landed in North Carolina.
When it hit North Carolina a storm surge emerged. It destroyed Hatteras Island and a small inlet emerged. Numerous homes were destroyed along the Outer Banks of the state.
The worst hit was Virginia. Nearly 65% of the damage took place there. 70% of all deaths took place in North Carolina and Virginia. Flooding occurred and electricity was lost for several days. Six million people were affected by power outages and heavy rain.
Cost of Damage of Per Region
The size of Hurricane Isabel meant several states suffered extensive property damage. The most costly was Virginia at $1.85 billion. The property damage at Maryland was $820 million while the cost was $160 million in Pennsylvania. $125 million was the cost in Washington, D.C..
In New York it was $90 million; in New Jersey it was $50 million; in Delaware it was $40 million and in West Virginia it was $20 million. Areas like Rhode Island and Florida suffered minimal damage only.
Impact in Southeastern US
Some of the biggest storm surges took place off southeast Virginia. The storm surge at the James River in Richmond reached heights of 9 ft (2.7m). The Midtown tunnel was inundated by 44 million gallons of water in less than 45 minutes. The size of Hurricane Isabel resulted in heavy rainfall.
The heaviest rainfall struck Upper Sherando (20.2 in, 513 mm). More than a thousand houses were completely destroyed. 9,000 more were damaged. Most of the damage along Maryland and Washington came from the storm surges. In eastern Maryland, the storm surges washed out buildings along the coast.
Dorchester County was affected as was the Somerset County. Dozens of trees were also uprooted in New Jersey. In Delaware, the damage was made worse due to the effects of Hurricane Henri a few days earlier.
Aftermath
After the hurricane left, rebuilding efforts began. $516 million were used to help rebuild severely affected areas in North Carolina, Virginia and other states. Nearly 160,000 people applied for help in reconstructing their homes.
The size of Hurricane Isabel was so extensive that rain and power failures were also felt in Ontario, Canada. Following the storm the US government declared the state of Maryland a disaster area, including hundreds of counties in North Carolina and Virginia.