The palm tree is definitely a symbol of tropical beauty.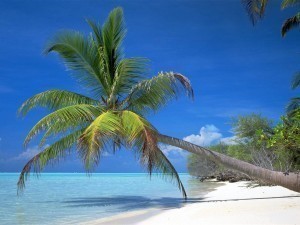 It stands tall among all the other plant families with its numerous species, accounting currently to about 2,600. One issue concerning this tropical symbol is the size. Palm tree size ranges from a small 4 feet to a tall 50 feet, depending on the palm tree type.
Palm Tree Size
There are many different types of palm trees. More often than not, the type characterizes the palm tree size. Here are some palm tree types and their height ranges:
* Lady palm tree: 4-8 feet
* Silver saw palmetto palm tree: 15-20 feet
* Mountain cabbage palm tree: 20-25 feet
* Thatch palm tree: 25 feet
* Queen palm tree: 50 feet
Choosing your Palm Tree
It is suffice to say that you will have a wide number of palm tree options to choose from. There is a need to know that there are specific palm trees that are found appropriate for household use. From the vast variety of palm trees available, you should worry about only a few types because not all those species can thrive in a household setting. Some may only grow under warmer climates as it is in deserts.
The most advisable palm tree type to grow in a home garden is the lady palm tree. It does not grow as gigantic as the other types and it can thrive under colder temperatures. The bamboo palm tree and the Kentia palm tree are also equally ideal to mix along with other landscape plants.
It is very easy to start up a nice landscape architecture if you use palm trees as your posts. Tall and beautiful, palm trees can rev up your garden nicely. It is also significant to note that palm trees are easy to grow under the proper temperatures, the amount of shade required, and the cold hardiness. All those must be duly considered before deciding to acquire a palm tree.
If you want to venture out into other palm tree types other than those commonly found in home gardens, you must fully equip yourself first with relevant palm tree knowledge. You can very well grow the taller variety, if you want them, as long as you know the proper care that they need. Planting palm trees can be difficult or easy as other plant varieties depending on your knowledge about the amount and brand of care they need.
Nothing beats the tropical appeal of palm trees. If you want to have it around, go ahead and make a choice among the palm tree sizes and types available.