How Big is the Biggest Burger?
When you talk of burgers, you would know that you may be like so many others who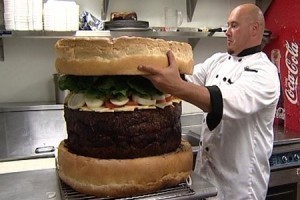 love burgers when your mouth would automatically water just imagining how good it looks and how delicious it would taste. But what if you are to try a sample of the biggest burger?
Have you really imagined how it would be to enjoy a hearty feast of the biggest burger in the world? Just how big do you think the biggest burger in the whole world would actually be? How large and how heavy?
Well, there is a particular US restaurant that had bagged the award for having the biggest burger in the world with a 15-pounder burger that is just so yummy to look at that many customers who flock to this place usually would like to try to taste it.
Just before the 15-pounder burger was born, the restaurant, known as the Denny's Beer Barrel Pub, already took the challenge before of making the biggest burger. They won the title with their 6-pounder burger.
Located in Clearfield, Pennsylvania, the owners of the Italian pub had held the idea that a bigger burger that is larger than the 6 pound burger would be a bigger attraction to many as reported by the Pittsburgh Post-Gazette.
And it truly did with their 15 pound burger called as the Beer Barrel Belly Buster priced at £25. If you would have the chance to see it, you would notice that it is similar to what you would see in the interior of a car tyre.
There was even a great deal attraction for this: For those who dine there, a T-shirt would be given and they can be recognized in the restaurant's wall of fame if they would be able to finish every morsel of the burger before five hours is up.
Moreover, the burger would be free of charge if they would be able to do this interesting challenge.
The son of the pub's owner, Dennis Liegey III, had said that each pub usually needs a particular gimmick and they chose having big burgers.
These 15lb. large burgers usually come with about 5.2 pounds of ingredients which includes a bun, two onions, a head of lettuce, three tomatoes, twenty five slices of cheese, mild banana peppers, mayonnaise, mustard, ketchup, and relish. With these particular ingredients, it is not surprising that many would choose to try to take on the challenge set by the pub in order to have their burgers for free and enjoy a very large and delicious meal that they would be sure to come back for again and again.
Because of the title they hold and the offer of the 6 pound and 15 pound burgers to diners, there are really so many people who visit the place. In fact, diners had hailed from different places such as California and Australia.
So don't just dream of eating the biggest burger. Go flock to this pub and try either the 6-pounder or the 15-pounder burger and see what a very interesting and different gastronomic experience is waiting for you that you would surely remember.