Size of Santiago Bernabeu Stadium
Santiago Bernabeu Stadium is also known as Estadio Santiago Bernabeu,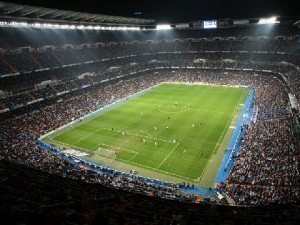 which is a football stadium found within the district of Chamartin in the City of Madrid in Spain. In 2007, it was classified as a UEFA Elite stadium. The stadium was named after Santiago Bernabeu Yeste, which is probably the most influential person in the history of the professional football club called Real Madrid. Aside from these facts, it is also good to learn the other things about this prestigious football venue including the size of Santiago Bernabeu Stadium.
The Size of Santiago Bernabeu Stadium
The playing field of Santiago Bernabeu Stadium measures 107 by 72 meters. It has a maximum seating capacity of 80,354, which is home to the professional football franchise Real Madrid Club de Futbol. The playing field features a Desso GrassMaster surface, which was made from all-natural grass improved by the addition of artificial fibers. Luis Alemany Soler and Manuel Munoz Monasterio served as architects for this particular project, which opened on December 14, 1947. Meanwhile, an architect named Antonio Lamela led the expansion of this stadium.
Additional Facts and Other Interesting Details
Santiago Bernabeu Stadium is found along the Paseo de la Castellana within the district of Chamartin, which is one of the most significant places in the City of Madrid in Spain. It is situated nicely right within the heart of the city's business district, which eventually led to more income and more fans. When it opened in December 1947, the featured game was between Portugal's Os Belenenses and Spain's Real Madrid Club de Futbol.
In the 2000s, then-Real Madrid President Florentino Perez led a plan to enhance the comfort as well as the quality of the facilities available inside the stadium. The plan also included the maximization of revenues. Approximately 127 Euros were invested from 2001 to 2006, which covered new VIP areas, new costumes and the addition of a new façade. Furthermore, escalators, restaurants and panoramic lifts were also added for the vast improvement of the venue. After this major renovation, the capacity of the stadium increased from 75,328 to 80,354.
The terrorist group called Euskadi Ta Askatasuna, which is more popular by the acronym ETA, conducted separate attacks on this football venue, one in 2002 and another in 2004. Perez resigned as Real Madrid President, before which he proposed a wonderful plan to create a retractable roof for the stadium. In 2008, this stadium was assigned to be the official venue for the UEFA Champions League Final in 2010.