A temple compound built in the ninth century,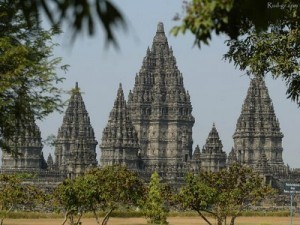 Prambanan is one of the UNESCO World Heritage Sites in India. The site is found at the east of the City of Yogyakarta. It is popular for its pointed architecture and a tall central building. Aside from temples, people can find numerous statues and sculptures in the place. To know the size of Prambanan, let us have a look at the total number of temples found in the complex. In addition, let us determine the height of the place's central building.
The Size of Prambanan
How big is Prambanan? Also called the Loro Jonggrang complex, Prambanan is composed of 237 big and small temples. The central building, which is the most popular attraction in the place has a height of 47 meters. The temple complex has three zones, namely the outer zone, the middle zone and the inner zone. The original function of the outer zone is unidentified. Small temples are found at the middle zone. The inner zone features eight small shrines and eight main temples.
In the middle zone, people can find 224 small temples arranged in four rows. The temples are collectively known as Candi Perwara. Many archaeologists believed that the structures were arranged based on castes. For instance, the structures found near the central building were only open to priests while the remaining structures were accessible to knights, nobles and simple people.
The holiest part of the compound is the inner zone, which features the Shiva shrine, Vishnu temple and Brahma temple. Shiva shrine features a beautiful structure of the Supreme God. Vishnu temple is situated at the east of Shiva shrine. On the other hand, Brahma temple is located at the north of Shiva shrine.
In front of the temples, people can find shrines created for the vehicles of Shiva, Brahma and Vishnu. Aside from these, there are statues of Surya and Chandra. Another attraction at the place is Angsa shrine.
Additional Facts and Other Interesting Details
Surrounding the shrines dedicated to Brahma and Shiva are bas-reliefs, which depict the legend of Ramayana. On the other hand, people can find bas-reliefs around Vishnu temple, which depict Lord Krishna's story.
Loro Jonggrang is surrounded by other Hindu temples. At the north of the site, people can find four popular shrines, which include Candi Lumbung, Candi Sewu and Candi Plaosan. At the south of the complex, there are six temples including Candi Ijo, Candi Barong and Ratu Boko. At the west of the complex, people can see six shrines such as Candi Gebang and Candi Sari.