Just as you would want to have a comfortable bed to sleep on, especially after a hard day's work; your dog would also want something comfortable to sleep on after a day of frolic and play.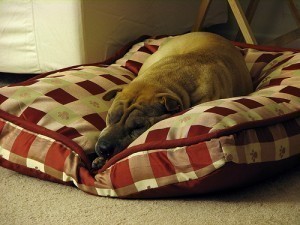 There are specialty stores that offer all sorts of pet essentials for dogs, cats, rabbits and every other pet on the planet. In here, you can also find pet beds from which you can choose the right bed for your dog.
How Big is a Doggy Bed?
Doggy beds come in a variety of sizes so pet owners can find the right bed that will best suit the type of dog they have; whether it's a toy poodle or a large Saint Bernard.
What this means is that the answer to your question, "How big is a doggy bed?" will vary depending on what type of dog you will be getting the bed for.
For instance, "How big is a doggy bed?" for a small dog like a Shih Tzu, Chihuahua or a Pomeranian; this will normally be tagged as an Extra Small bed. Measurements for this are around 25 inches in length by 20 inches in diameter by 7 inches in height.
Also, Extra Small dog beds are ideal for dogs weighing between 1 to 12 pounds.
Now, for "How big is a doggy bed?" for slightly heavier dogs, between 13 to 25 pounds; a Small bed may just be what your dog needs. Generally, a Small dog bed size measures around 38 inches in length by 30 inches in diameter by 9 inches in height and is around 10.5 inches wide.
A Medium dog bed on the other hand, is usually around 44 inches in length by 35 inches in diameter by 9 inches in height by 10.5 inches in width. A Large dog bed meanwhile, is generally around 50 inches in length by 40 inches in diameter by 9 inches in height.
How to Choose the Right Size
To help you find the right dog bed for your pet and the answer to "How big is a doggy bed?" specific to your dog, measure the length of your dog from the neck down to the tail. Put in an extra 5 inches to the measurement so the dog can comfortably fit on the bed.
It is also important to get the latest weight of your dog prior to getting the dog bed. This can help you choose a bed that can support the weight of your dog.
Once you have all the necessary measurements, you can then start looking for the most suitable bed for your beloved pet.