A species of genus Psidium that originated in South America,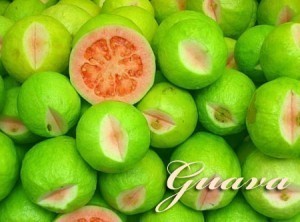 Central America and Mexico, a guava is a small flowering tree that bears ovate or elliptical fruits. The plant usually grows in countries with tropical and subtropical places. The color of the flowers is white and these have numerous stamens as well as four to five petals. Many people cultivate this plant because the different parts of the tree including the bark, leaves and fruits are beneficial. To grow this plant successfully, it is important to have knowledge on the different guava sizes.
The Size of Guava
A guava tree can grow to 33 feet but the average height of the tree is 10 feet to 15 feet. The color of the bark can be reddish brown or mottled green. The leaves of the tree are usually oval and short-petioled. The length of the leaves is between two inches and six inches while the width is an inch to two inches. The petals of the flowers can be easily shed. The usual width of the flowers is an inch. The fruits have four to five sepals and the length ranges from two inches to four inches. The number of seeds of the fruits is between 112 and 535.
Additional Information and Other Important Details
Some of the nutrients that we can get from eating guava fruits are niacin, riboflavin, thiamin, ascorbic acid and carotene. In addition to this, the fruits have iron, phosphorus, calcium and dietary fiber. The other nutrients that are present in guavas are vitamin C and vitamin A. Moreover, the fruits are rich in omega-6 and omega-3 polyunsaturated fatty acids.
The leaves of the plant are useful in treating dysentery and diarrhea. Other diseases that can be treated with the leaves are nausea, vomiting, bleeding gums, vertigo, mouth sores, discharge as well as conjunctivitis. In some Asian countries, the leaves are boiled and used to clean open wounds. Guava fruits can be ingested fresh or it can be used as ingredients in dishes and desserts. The fruits are also used to make jams.
The wood of the tree is useful for carpentry and turnery. The wood is also used in India for etchings as well as carvings. The wood from the bark is also used to make charcoal. The bark and leaves of the tree have tannin content. Tannin is a special substance in some plants that are used in coloring cotton and silk, which are commonly produced in Southeast Asia.