Grinding Machine Dimensions
There are several grinding machine dimensions simply because the machines are utilized in a wide variety of applications. Aside from the sizes, however, there are other aspects you have to consider before buying one.
Prem Brothers Power Matter Grinding Machines
These are heavy duty bench grinding machines available in different sizes. Model 1678 has a wheel size measuring 150 x 20 x19.05 (diameter x width x bore; mm). Model 1278 has a wheel size of 200 x 25 x 19.05, while model 101's wheel is 200 x 25 x 25.40. For model 1012 it is 300 x 25 x 25.40 and for model 123 the size is 300 x 25 x 25.40.
Grinding Machine Design
While the grinding machine dimensions may vary, some features are almost always constant. The unit will have an abrasive wheel as one of its major components. When the machine is being used, the material it is working on is called the work piece. Various materials can be worked on, including metals and plastics.
Variants
The following are some of the major grinding machine types being manufactured today.
The belt grinding machine is used for work piece processing and edge breaking. Finishing and stock removing is also done with this tool. The bench grinding machines are used for grinding cutting utilities. Heavy duty grinding tasks are performed with these devices.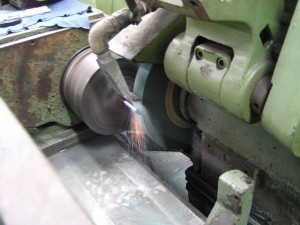 The surface grinding apparatus is utilized on the work piece surface. Its primary task is to smooth the object. The jig grinding machine is best used for grinding intricate shapes. It is also utilized for projects that require accuracy.
There are other types available. The cylindrical machine is nest used for work pieces with a center rotation axis. Gear cutters are employed for casting, hobbing and other machining projects.
Materials Worked On
These machines are used for different objects. For instance, the belt grinders are best for metals while the gear cutter is most appropriate for wood, metal and plastic. The bench grinders cannot grind soft metals like aluminum; they are only used for steel.
Other Considerations
Before you buy, assess the input power needed to run the device. You must also think of the grinding wheel size as well as the volt rating. The frequency and the no-load speed must be addressed also.
Besides the grinding machine dimensions, the grinding head control must be looked into as well. You also have to assess if the spindle is horizontal or vertical.