The dimensions of a stove come in all sizes and types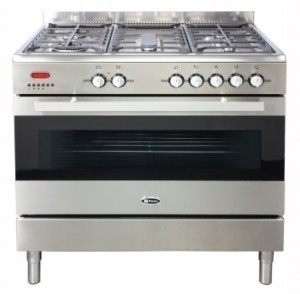 with various dimensions that are probably designed and created to suit the many preferences of different consumers.
Here are the most commonly used stoves that you may probably see in most households:
Wood Stove
These still vary in size that you can easily choose what specifications you may be looking for in a wood stove.
Its general sizes, though, come in around 700 by 459 by 1080 mm.
Other sizes range around: 48 by 24 inches for its height and width and around 35.5 for its depth. You can also see some wood stoves in the market that has sizes of about 28.7 inches for its height, 15.76 inches for its width and about 26 inches for its diameter.
According to many users, the wood stoves are deemed to be one of the most convenient stoves that you can easily buy. Sawdust is the most common form of fuel that is used. This can be found in wood mills and some lumberyards.
Alcohol Stove
If you're searching for an alcohol stove in stores, you may also see many varieties. One would actually weight about four ounces and has dimensions of about 1.75 inches in height. This is practically useful when you're always on the go since you can conveniently bring it with you since it's just small and all you need is denatured alcohol to turn it on. With this, you can cook your meals anytime, anywhere.
Most of these types are rugged in design. And you can either purchase one or make one for your own use.
Other sizes can be found at around 2.75 by 2.5 inches for its height and diameter. And there are also other models with dimensions of around 11.5" H by 11.5" D.
While denatured alcohol is the main thing that users of this alcohol stove use, you can also use other forms of alcohol if you wish.
Lpg Stove or Gas Stove
Lpg or gas stoves come in single burners, double burners, three burners, and even four burners. Some dimensions of the single burner gas stoves come in 12.8' L by 14.2' W and 6.9' H. These are usually made of stainless steel with pan supports and spill trays.
The standard size for a double burner is around 26.5" by 16" by 4.5" for its dimensions. Others are around 27.4" for its length, 14.6" for its width, and about 6.7" for its height.
A three burner gas or lpg stove is around 28'L by 23' W by 5' H while other models have sizes of about 29.2" by 16.9" by 4.7" for its dimensions. There are still other sizes available, too, aside from these two measurements mentioned.
Four burners have dimensions of about 24'L by 22.5' W by 5' H or are sized around 25'L by 22.5'W by 5'H, and others.
Electric Stove
The dimensions of a stove that is electric come in varying sizes such as 22.63 by 18.6 by 3.8 for its WxDxH and 19 by 11.5 by 3. However, the first dimensions mentioned are considered to be its standard size for this particular stove.
With all these different sizes, making a choice can seem like a handful. Keep in mind that such dimensions of a stove are made to answer to the demands of different customers looking for a specific size that would be perfect for cooking one's meals. So, before you shop, think of the specifications that you would be happy with in terms of design, creation, and dimensions.