Dimensions of a King Size Bed
A King size bed is ideal for couples. This gives each person enough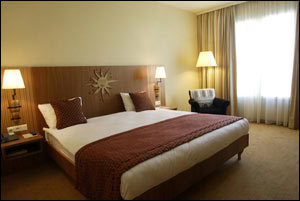 space on the bed to have a comfortable sleep no matter how much one tosses and turns during the night.
For most couples who find that sleeping in a Queen size bed just isn't comfortable enough, upgrading to a King can be the best decision they make in order to get a good night's rest everyday.
Dimensions of a King size bed are basically 76 inches by 80 inches. For taller persons, there is a longer King size version which is called the California King. This comes in dimensions that are narrower but longer than the regular Kin.
California King beds are 72 inches wide by 84 inches long.
King Size Bed Buying Tips
Before you start to scout around for your type of a King size bed, there are a few things that you need to consider first.
First of all, you have to make sure that your King bed will fit in your bedroom with plenty of space for you to walk or move around the room. Secondly, you will also have to make sure that your bed frame and mattress will fit through the door.
You can take a measuring tape and determine the width and height of your bedroom door to ensure that you can squeeze the bed through it without much trouble.
You may also want to consider getting just the frame and the mattress minus the headboard if you don't have too much space. You can simply push the bed frame against the wall.
For your mattress, you should know that there are different mattresses that come in King sizes suitable for your bed frame. The quality of the mattress is of course the most important part about choosing your King size bed since this will determine the quality of your sleep every night.
Sheets and Other Linens
When you're buying a King size bed, you should include in your budget the cost of the sheets, comforters and other bed linens that you want to get for your new bed.
Since this is a new bed, you may want to get a complete set so you have your bed covered just right. A complete bed set usually comes with a fitted sheet that will serve as your bottom sheet or bed cover; a flat sheet which you can sleep under; pillow cases and a comforter or duvet.
For a King size, you might need to get bigger and longer pillows as well so you should also include this in your budget.