Dimensions of a Heineken Mini-keg
A pale lager known for its 5 percent alcohol per volume, Heineken Pilsener is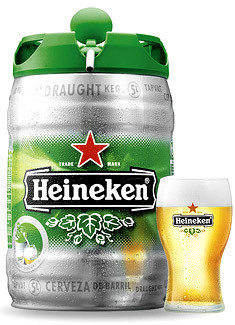 one of the widely recognized brands of beer all over the world. It was launched in 1873 by Heineken International, the flagship product of which makes use of yeast, hops, malted barley and purified water as primary ingredients. Today, it is considered as one of the leading beer brands in places such as the Middle East, Europe and the United States. One of its highly interesting products is the Heineken Premium Light Lager Beer, which is served in a 5-liter keg. Know more about this product by learning the dimensions of a Heineken mini-keg.
The Heineken Mini-keg Dimensions
Available in a stainless steel and green color, a Heineken mini-keg has a 5-liter net capacity. It has a height of 14.75 inches, a width of 15.25 inches and a depth of 10.25 inches. This size is intended for retail sales, which is made from recyclable aluminum. In Canada, this kind of keg size is referred to as Bubba, a term which was dubbed by Molson brewery. This term is now used to call all the 5-liter mini-kegs in the country.
Additional Facts and Other Interesting Details
A Heineken mini-keg has a 5-liter capacity, which is equivalent to 1.32 U.S. gallons. With this size, each keg can hold as much as 14 servings of 12-fluid ounce Heineken beer. Additionally, it can hold more or less 10 servings of 16-fluid ounce beer and about 8 servings of 20-fluid ounce beer.
The party ball or beer ball is a type of mini-keg made up of a disposable plastic ball. The capacity of each container is 5.2 gallons, which is equal to 55 servings of 12-ounce beer. It also comes in a slightly smaller size, the capacity of which is 3.8 gallons. Before its contents can be served, the ball must be tapped first.
Heineken International has 40 breweries scattered in 39 countries. In 2006, these brewing plants produced 25.8 million hectoliters of beer. In that very same year, these major facilities posted a consolidated beer production of 111.9 million hectoliters. One of the main breweries of Heineken is found within the municipality of Zoeterwoude in the Netherlands. As one of the company's most dependable and longest running facilities, it has been brewing high quality Heineken beer since 1975.
Throughout the history of this beer, it has already won four prestigious awards in the past. These include the 1900 Hors Concours Membre du Jury, the 1889 Exposition Universelle Grand Prix and the 1875 Medaille d'Or, all of which were held within the City of Paris in France.