Bench scraper sizes vary. Some have blades measuring 5 7/8 x 3 inches,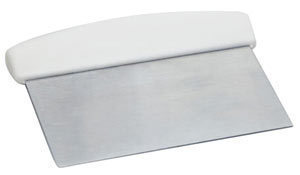 while others have 4 3/8 x 3 inch blades. The overall dimensions of the product will also differ depending on the manufacturer's design. Standard metal scrapers however, are 4 inches (cm) high and 6 inches (15 cm) long.
Definition
The tool is also known as a dough scraper. It is primarily utilized by bakers to remove the dough left on the countertop. The tool can also be used to collect sticky dough. The tool is also used for slicing and cutting dough.
The scraper can be made from different materials. However, the most widely used is stainless steel. But there are now models constructed from stiff plastic. These plastics are specially designed so they are durable. These are also available in various bench scraper sizes.
Misconceptions
The bench scraper should not be confused with soft plastic dough scrapers. The dough scrapers are tools for getting dough in the mixing bowl. The pastry blender and cutter are also different tools.
The pastry blender is a utility made up of numerous metal wires. These are used for combining flour with butter. The pastry cutter is a tool that works similar to a pizza cutter.
Uses for the Bench Scraper
When you bake bread, the bread has to be set on a floured surface for kneading. During the process, small chunks of bread may get stuck on the countertop. This is most likely to occur if the dough is damp.
You can use the bench scraper to remove the dough off the countertop. The bench scraper can also be utilized for working on the dough.
Besides readying dough, the tool can also be utilized to prepare pastry dough and pie dough. Metal scrapers possess a sharp edge. This feature lets you cut the dough without affecting the gluten. For this reason, bakers employ the tool for uniformly cutting dough into loaves or rolls.
Most bench scrapers will have markings. Found along the edge, this feature enables you to gauge the width or length of the loaf. Another thing about bench scrapers is you can remove the dough off the table without inflicting damage on the countertop.
Whatever the bench scraper sizes you use, remember that it can also be used for collecting small places of food. After collecting, these can be placed in the baking dish or a nearby pan.