Truck Bed Dimensions for a Nissan Frontier
When checking the Nissan truck line, remember the Frontier and the Nissan Navara are the same models. The Navara line is sold in Asian countries, but they are known as Frontier in North, Central and South America and the Philippines. Truck bed dimensions for a Nissan Frontier depend on the model, but in some cases they are similar.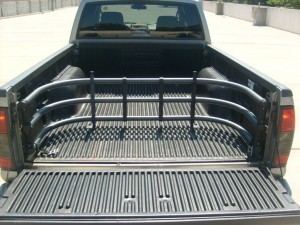 Frontier King Cab Specifications
Its truck bed is 73.3 inches long and 61.4 wide. The width between wheelwells is 44.4 inches. The depth is 18.0 inches. Its wheelbase is 125.9 inches and its overall length is 205.5 inches. The overall width without mirrors is 72.8 inches. Its height is 68.7 inches. The interior specifications are as follows. The head room (front/rear) is 39.7/38.3 inches.
The leg room (front/rear) is 42.4/25.4 inches and the hip room (front/rear) is 55.8/55.0 inches. The shoulder room (front/rear) is 58.3/54.9 inches. Some of its features are overhead console with sunglasses storage, four cup holders, four bottle holders and front and rear door storage pockets.
There is also a driver's seatback pocket, second-row under-seat storage, first-aid kit and tilt steering column. There are also voltage and oil pressure gauges, front map lights, cruise control, remote keyless entry and in-cabin microfilter.
Crew Cab Dimensions
The bed is 18.0 inches deep, 44.4 inches wide between wheelwells and 61.4 inches wide. It is 73.3 inches long. It means the truck bed dimensions for a Nissan Frontier are the same for the two models. The exterior dimensions are also similar.
D22 series (1997–2004) Specifications
The 2003-04 Crew Cab long bed is 217.8 in (5,532 mm) long. The standard Crew Cab is 199.9 in (5,077 mm). The 2003-04 King Cab is 202.9 in (5,154 mm) long. The 1998–2002 Crew Cab is 193.1 in (4,905 mm) in length. The widths are as follows: the 2003-04 King Cab is 2WD is 67.7 in (1,720 mm).
The Crew Cab 2WD & King Cab 2WD are 71.9 in (1,826 mm). The height also varies. The 1998–2002 King Cab 2WD is 62.6 in (1,590 mm). The SC 2WD is 69.9 in (1,775 mm) and the 2003-04 King Cab 2WD is 63.2 in (1,605 mm). The Cab 4WD is 71.8 in (1,824 mm) tall.
The truck bed dimensions for a Nissan Frontier are going to vary depending on the models. You need to keep this in mind when looking for a new truck. You can find the information on the company website for more information. The vendor can also provide you with relevant data.