Baby foods are typically mashed or puréed vegetables and fruits. While these are commercially sold in the market, parents often opt to prepare their baby's food themselves to ensure that these are safe for the baby.
This will also help them save a few bucks since home-prepared baby foods are generally cheaper.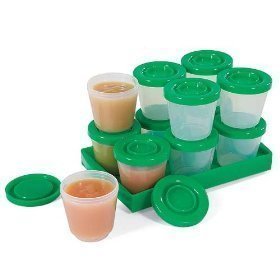 The foods can be kept in special baby food containers that will keep them fresh. Sizes of baby food containers are usually determined by the amount of food they can store. These are typically indicated in ounces.
Sizes of Baby Food Containers
There are various types of baby food containers, from single canisters to tray types. Sizes of baby food containers in single canisters may come in 1-ounce, 2-ounce and 3-ounce options.
These are ideal for storing your baby foods in the refrigerator or freezer. Some of these are likewise microwave safe.
Sizes of baby food containers that are tray types usually measure in the same manner as that of the single canisters: 1-ounce, 2-ounce and 3-ounce.
The tray that holds the containers on the other hand measures approximately 7 inches in length by 4 and three-fourths inches in width.
This type of baby food container has several single canisters that you can place inside the tray slots.
There are likewise tray types where you place the food right on the slots on the trays. Sizes of baby food containers that are of this design are basically around 11.3 inches in length by 4.9 inches in width by 2.4 inches in height.
Feeding Dish
Sometimes, the baby food containers are designed to serve as a feeding dish as well. These come with covers so you can easily store the food as well once your baby has finished eating.
You can also use this for storing food when you need to go out with the baby.
The feeding dish is typically divided into three sections, with each one good for 1-ounce of baby food. For sizes of baby food containers that are also designed as a feeding dish, these are approximately 5.5 inches in diameter
There are also bigger food containers that double as a feeding dish. These are about 7 inches in length and 5.5 inches deep. The lid is approximately an inch thick.
Baby food containers also come in various colors, with some coming in packs of three or four of different colors for each canister. Their colorful feature makes them more attractive to the babies which can in turn make feeding time more enticing.