Furniture arrangement is a skill and anyone can easily develop this talent by taking the time to lay-out a plan for each room in the house so you can have a clearer vision of how the room would look with your arrangement.
You can "move" the furniture around in your lay-out until you are satisfied with the results. This way, you won't actually have to push and pull your furniture pieces until you get the look that you want.
This being said, it is important that you at least have an idea of some of the basic measurements for different furniture pieces so you can reserve the appropriate space for each one.
Standard Furniture Sizes
The following are basic furniture measurements for some furniture pieces that you would normally find inside the house.
Sofa
Sofas for the living room may come in several different makes, from leather to fabric upholstery and their sizes depend on how many people you want to seat on the sofas.
Measurements for these can be anywhere from seventy-six inches up to ninety-six inches long, thirty up to thirty-two inches deep and thirty to thirty-one inches high.
Coffee Table
For your coffee table, measurements for this are generally around seventeen up to eighteen inches in width by thirty-six up to fifty inches in length. Depth for this table is usually around twenty up to twenty-eight inches.
End Table
This table is what you would normally place at the end of each side of your sofa or couch. Dimensions for this usually start at twenty inches high, seventeen inches wide and twenty-eight inches long.
You may also find a square-shaped end table and this one would normally measure twenty-four inches by twenty-four inches.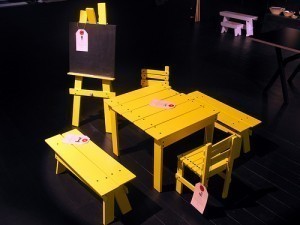 Kitchen/Dining Table
Again, the size of this table depends on how many people you want to accommodate all at one time. Typically, these are around twenty-nine inches in height, thirty-six inches in width and sixty inches in length.
Kitchen/Dining Chairs
As for the kitchen or dining chairs, the measurements would of course have to fit your dining table.
However, just to give you an idea of basic measurements for these chairs, these would normally be around nineteen inches for the seat width, nineteen inches for the seat depth, nineteen inches for the seat height and thirty-four inches for the chair's total height.
Kitchen Stools
Now if you need extra chairs in the kitchen, stools are ideal since they do not take up a lot of space. These generally measure around twelve inches in width, twelve inches in depth and twenty-seven inches in height.
Note: The following are just general measurements. Actual measurements of each piece of furniture may vary depending on your preference and manufacturer.