There are many different headboard sizes.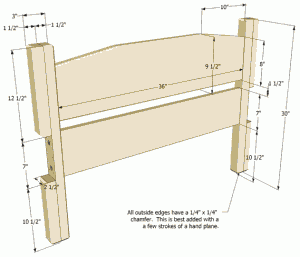 This is of course necessary because beds come in different sizes. The following are just some of the measurements used by retail and online stores.
Headboard Dimensions
Many headboards are 49" tall and 54" wide, while other full headboards are 4¾" tall and 53½" wide. Other measurements you will come across are 55" x 54", 60" x 54", 52 ¾" x 54" and 49" x 54" (H x W). There are also some headboards that measure 56 ½" x 55.
There are also headboards that measure 55" x 55". Other sizes you will come across are 3 ft / 90 cm for small single beds, 4 ft / 120 cm for small double beds and 4 ft 6 in, 5 ft and 6 ft for super king headboard sizes.
How to Choose a Headboard
There are many different designs you can choose from. For the color, it is of course a matter of personal preference, but make sure that it matches the style and theme of your room. The color should also match the overall design of the room. Even if the size is right, it will seem out of place if the color is not right.
Materials
The most popular choices are metal and wood. Metal headboards will give your bed and room a contemporary look. Wood is preferred by those who want a classic and traditional look for their bed.
Wood comes in many different finishes and styles. There are also elaborately decorated wood headboards available. The style, the headboard size and design will determine the price.
Multipurpose Headboards
While many headboards are used for decoration, there are also some with practical features. Some headboards have space that allows you to store books and other items on it. These multipurpose headboards are most suitable for small rooms.
By using these practical headboards, you will be able to save space. Aside from books, you can also add decorative items on the headboard. By organizing the items on the headboard, it can add a sense of style to the bedroom.
The poles on the sides of the headboard are also very popular. The styles will vary greatly, and so will the size. Not all headboards have these. Make sure you look at the different types available so you can pick the right type.
Children's Headboards
These come in various styles and colors. However the first thing you should do is make sure the paint used for the headboard is safe. Make sure that the style you choose fits the overall room theme and design.
A lot of kids and teens like headboards with shelving units. Aside from storing books, these headboards also let you store various trinkets and items there.
Headboards with shelves can save space in rooms. If the child's room tends gets cluttered, you can avail of the headboard's shelving units.
Choosing the headboard size should not be that difficult. The type they are suited for will be specified by the manufacturers. What will truly make your headboard stand out is the design and style you choose.