Dimension of a Toy Weapon
Few toy weapons are as popular as guns. These models come in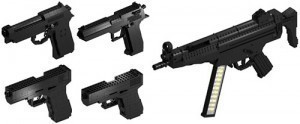 different designs, from futuristic to those fashioned after genuine firearms.
Toy Weapon Sizes: Grizzly Rifle
The Grizzly Rifle measures 29 x 2 x 3 inches. The colors are brown and black. The design is patterned after the rifles used in the days of the Wild, Wild West. The scope is also modeled after the real gun. The gun is made from plastic but is made to resemble metal used in real weapons.
The Grizzly Rifle can fire #915 strip caps. The weapon is made in Italy. This toy gun is ideal for children that like to play cowboy. The strip caps are set in the removable magazine at the bottom of the rifle.
The rifle can be cocked using the action lever. When set up properly, the cap is fired into the air. Although the toy is not that heavy, it has a solid feel to it.
Toy Weapon Sizes: Old Tex Rifle
The Old Tex Rifle measures 29 x 2 x 3 inches and weighs 2 lbs. The gun colors are red, brown and grey. The Old Tex Rifle can fire a dozen ring caps. The gun is made from die-cast metal which makes it look similar to antiquated steel.
The gun makes a sound when fired. The configuration makes loading and firing easy to do. When fully loaded, the weapon can fire off the 12 caps in succession. The Old Tex Rifle is designed not just for boys, but for anyone who wants to play a little shoot 'em up. It is made in Italy.
Toy Weapon Sizes: Parris Model Uzi
The Parris Model Uzi weighs 4 lbs and has a silver metallic color. It is made from clear plastic. The design lets you see the mechanisms and caps inside the weapon. The stock can be unfolded and it fires #915 strip caps.
The gun has been designed based on the original models. The design of the Uzi ensures the caps do not get stuck and that it does not get jammed. The cap is fired from an enfolded spot, but it still makes an audible sound. The design also makes it durable.
Toy Weapon Sizes: Parris 44 Magnum
The Parris 44 Magnum weighs 4 lbs. The handle is brownish red and the rest of the gun is black. This Sportsman Air Soft 44 Magnum has an eight shot cylinder and the hammer is fully functional. The gun can shoot the ammunition to a distance of 20 ft.
The gun is modeled after the real thing and is constructed of quality plastic. The stock is designed to simulate the look of genuine wood. The barrels on the other hand, are designed to look like metal. The ammo is loaded individually.
While the toy weapon size is important (for portability), so is the material it is made of. Doing some research can help you determine if the toy is durable. This point is essential especially if the gun will be used by small boys.