Being able to compare car sizes is necessary. With so many models to choose from, it is imperative that you become familiar with their features. It is the easiest way to determine what to buy.
Dimensions: Lamborghini Reventon
The Reventon is 4,700 mm (190 in) long. The width is 2,058 mm (81.0 in) and its height is 1,135 mm (44.7 in). The wheelbase is 2,665 mm (104.9 in). The transmissions are 6-speed e-gear and 6-speed manual transmission. It has a 6.5 L (400 cu in) V12 engine.
It has a top speed of 405 kilometers per hour (251.7 mph). The car has a price tag of US$1.31 million. It is the most expensive Lamborghini ever produced.
The car made its maiden appearance at the 2007 Frankfurt Motor Show. Its exterior is all new, but the engine is derived from the Murcielago LP640.
Compare Car Sizes: Pagani Zonda
The Pagani Zonda is 1,141 mm (44.9 in) high. The car is 4,435 mm (174.6 in) long and 2,055 mm (80.9 in) wide. The curb weight is 1,274 kg (2,809 lb). The wheelbase is 2,730 mm (107.5 in). It uses a Mercedes Benz M180 V12 engine.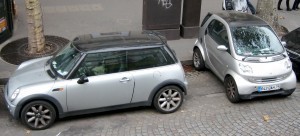 The Pagani has a maximum speed of 345.94 km/h / 215 mph. The sports car came out in 1999. The car is made in Italy. Production continues to this day. Pagani cars are produced at a rate of 17 cars a year. By 1999, more than 100 Zondas had been manufactured.
Dimensions: McLaren F1
The McLaren F1 is 4,287 mm (168.8 in) long. It has a height of 1,140 mm (44.9 in) and is 1,820 mm (71.7 in) wide. It has a curb weight of 1,140 kg (2,513 lb). The wheelbase is 2,718 mm (107.0 in). The transmission is 6-speed manual. The engine is 60 degree 6.1 L BMW S70/2 V12.
The car has a maximum speed of 240 mph (386 km/h). This speed was set on March 31, 1998. Its light and streamlined feature helps improve its speed.
One of its unique features is the driver's seat. It is set in the middle and ahead of the other seat. This setup provides good views of the car. The McLaren F1 is not a race car, but it can be modified to participate in races.
It is easy to compare car sizes online. But it is a good idea to check with the dealer or manufacturer. Specifications can change, so it is best to be updated.