Car cover sizes are available in small (208 x 147),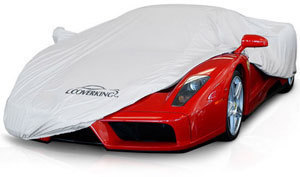 medium (220 x 161), large (236 x 161), extra large (248 x 161) and XX large (268 x 161). These measurements are length x width and in inches. There are also covers whose sizes can be customized.
Benefits of Using Car Covers
The most obvious benefit is it protects the vehicle's finish from weather extremities. If the car is not in a garage, the covers will also shelter it from trees, birds and other animals. Covers also guard the car against scratches and nicks.
Materials Used
The early car covers from the 1950s were made from tent like materials. Modern car covers are constructed from different kinds of materials ranging from polyester, satin to flannel.
Other synthetic fabrics may also be used. There are also covers now with UV protection so sunlight doesn't damage the vehicle. Quick drying covers are also available.
Tips for Buying Car Covers
Aside from the car cover size, you should examine the material itself. Some covers are designed for protection against rain, while others against heat. Some are all purpose.
Choose the one that best suits the weather in your location. Tip: don't let your car get rained on. If pollution is heavy in the area, the rain may contain film that can damage the car.
Make sure the fabric can breathe; otherwise the car finish will suffer. The covers must also fit the car well. Ill fitting coves will actually create dents and scratches. The weight of the covers should be considered too. If lightweight covers will do, go for it; they are easier to clean and put on than the thicker fabrics.
Other Information for Buyers
There are some covers made specifically for cars stored indoors. While these covers are quite heavy, they will protect the car against dust, dirt and other debris. Most of these indoor covers are made of flannel, but some are cotton or polyester. Cotton and polyester indoor car covers are popular because they are cheaper than flannel.
Another benefit of polycotton fibers is they are breathable. It's also a good idea to look for covers with acrylic fibers. These offer excellent protection against intense heat and sunlight.
If you can't find a car cover size to fit the car, get the custom made covers. These covers will be custom made to fit the dimensions of your vehicle. However, you need to provide the make, model, year and other details about the car.