The dimensions of a yarder are dependent on its purpose. If you need to use one, it is essential that you are aware of some basic facts about the equipment. Basically, it is a piece of logging tool.
This logging equipment utilizes cables to draw logs off the base onto the landing. The system is usually made up of a spar, drums and an engine. But numerous configurations may be applied. The early models were run by steam. They traversed railroads. The logs were pulled to the railroad. These were hauled into several rail cars.
The Early Models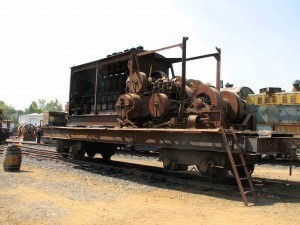 Some of the more popular early brands were Minnesota, Tyee, Skagit and Lidgerwood and Clyde. These machines were used exhaustively, even though they were huge. The Clyde was known for its ability to haul logs from various areas simultaneously. Every cable was about a thousand feet long.
A clearance signal was relayed after the logs were hooked up. The logs were skidded 1000 feet per minute (1MPH = 88 fpm = 26.8 meter per minute). This is equal to ten miles per hour.
Once the logs were landed, a loader put them onto trucks. Heel-booms or tongs were used to put the logs into the vehicle. The loaders were also known as duplexes.
The name stems from the fact that a couple of engines were used to manage the tongs. Depending on the dimensions of a yarder, it could be joined to a loader. This machinery was known as a unit.
During the 1950s, these steam engines were replaced by the diesel engine. Newly designed chassis would render the rail mounted ones obsolete. The 1960s saw the modern versions start to appear.
ThunderBird TSY-255 Swing Yarder
This model has 430 hp and speeds of 2000 FPM. The vertical lift is 55' and the 2000' line capacity. The Thunderbird is a drum machine, which means it has half a dozen or more drums. It has hydraulic winches with large capacities for cables.
The unit has a Detroit 8V92 engine. The primary drums are able to contain 2,000 feet of 7/8's in. The running skyline and slackine configuration can be applied. It has a lattice boom tower. Its track mount carrier consists of the hydrostatic drive.
The dimensions of a yarder are crucial in determining how well it will perform its task. Being aware of the specs is therefore essential for the system to work.