Monster Truck Tire Dimensions
Known for its extraordinarily big wheels, the monster truck is part of a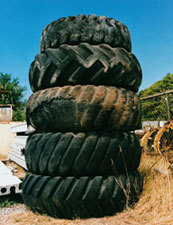 very popular sports entertainment that is closely associated with other events such as car-eating robots, tractor pulls and mud bogging. Furthermore, it is often seen together with Motocross races and many other interesting spectacles. Because of the ordinarily massive design of this vehicle, many people are easily attracted to it. For a chance to know more about it, it is also good to know the different monster truck tire dimensions.
The Dimensions of a Monster Truck Tire
Upon seeing a monster truck, it is very hard to notice its massive tires, which go very well with its equally large body frame. This type of vehicle uses Terra tires, each of which measures 1.7 by 1.1 by 0.6 meters or 66 by 43 by 25 inches. Its engines have displacement of more or less 575 cubic inches. Aside from these things, it is also important to look at its custom-designed or modified automatic transmission, which makes use of versions like the Ford C6 transmission, the Powerglide as well as the Turbo 400.
Additional Facts and Other Interesting Details
The Monster Truck Racing Association was established some time in 1988 in order to standardize the rules for the safety and construction of trucks. After that, this organization went on establish the standard rules of safety. Until now, it continues to serve a major role in the development of the sport in the European Union as well as in the United States.
Today, the biggest promoter of the sport is Monster Jam, which produces tours in various European regions, in Canada and in the United States. In addition, there are also other notable promoters such as the Special Events 4 Wheels and Off Road Jamboree, AMP Tour and the Checkered Flag Productions. Furthermore, you can expect quality shows from groups like the Monster Truck Challenge, the Extreme Monster Truck Nationals and the Major League of Monster Trucks.
In terms of design, this kind of truck features a tubular chassis that is custom-built, supercharged engines and modified axles. Likewise, it also has four-wheel steering for better driving control. Trucks with automatic transmissions usually come with heavy-duty gear sets, manual valve bodies and transbrakes.
Although monster trucks run only in small arenas, the safety and well-being of drivers and spectators are highly important. Before drivers can participate, they need to wear head and neck restraints, helmets and safety harnesses. To prevent them from burning in case accidents arise, they are also required to use fire suits.