A herbaceous plant that belongs to the genus Solanum, the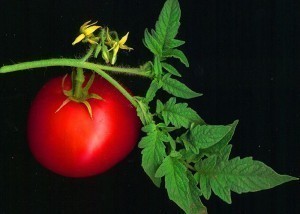 tomato is widely cultivated mainly for human consumption. The plant originated in South America. The top producers of the fruit in 2007 are China, the United States, Turkey, India and Egypt. The estimated volume of tomatoes harvested in the world the following year is 125 million tons. Tomatoes can be eaten raw or these can be cooked with other fruits and vegetables. Manufacturers also extract the juice of the fruit to retain its nutritional value. Before cultivating the plant, it is best to know the different tomato dimensions.
The Dimensions of the Tomato
What are the dimensions of the tomato? The tomato plant usually reaches the height of three feet to 10 feet. The stems of the plant are woody but weak. The leaves have petioles with five to nine leaflets. The length of the leaf is approximately 10 centimeters to 25 centimeters. Each leaflet has a length of eight centimeters. The flowers of this plant measure one centimeter to two centimeters across. Depending on the cultivar, the fruit has a usual diameter of around 5.1 centimeters. Commercially grown fruits that are used for producing canned tomatoes have a length of seven centimeters to nine centimeters and a diameter of four centimeters to five centimeters.
Additional Information and Other Important Details
Tomatoes have numerous cultivars, which include the Balconi Red, the Bloddy Butcher, the Bush Champion, the Crimson Cushion and the Extreme Bush. Most of the cultivars can be harvested between 50 to 70 days. The fruit is a good source of vitamin C and lycopene, which are important to improve our immune system. The lycopene also acts as antioxidants to prevent the etiology of cardiovascular diseases. In addition, the lycopene inhibit the growth of cancerous tumors in the body.
When planting tomatoes, there are some guidelines that you need to know. It is important to harvest all the fruits before frost. It is easier if you plant the seeds indoor three months to four months before transferring the plants in a place with direct sunlight. The soil should have a pH level of 6 to 7 to ensure that the plant will grow well. To stimulate the growth of tomatoes, do not forget to apply compost in the soil before planting. Harvest the fruit when the color becomes even and glossy. It is important to harvest the fruit before it ripens. Store tomatoes in a cool and dry place.