Alcoholic beverages come in all flavors, shapes and sizes; and wherever there's a party – grown-up party, that is; you're sure to find a few bottles of these beverages around.
Vodka is a versatile alcoholic drink because you can mix it with tonic water, cranberry juice, grapefruit juice and other fruit juices to make a cocktail drink.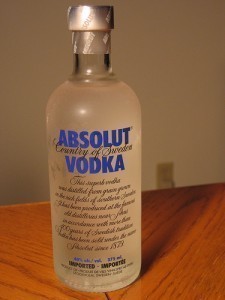 This gives you a variety of drink options for your guests with the use of one base alcoholic drink: vodka. Absolut is one of the most popular vodka brands in the world and you can find these in pubs, clubs and even in home bars. There are actually individuals who collect different Absolut Vodka sizes and flavors.
Absolut Vodka Sizes
Whether you're throwing a big party or a small get-together with friends, it helps to know the available Absolut Vodka sizes that you can normally find in the market these days.
This way, you can gauge how many bottles you need to buy for your shindig so you won't run out of cocktails just when everyone's starting to loosen-up and enjoy your party.
You can find Absolut Vodka in the following sizes: 50 ml., 200 ml., 375 ml., 750 ml., 1 liter and 1.75 liters. Most vodka bottles have 80 alcohol proof which means that they more or less contain about 40% alcohol.
There is also a 100 proof Absolut Vodka which is called Absolut Vodka 100 Premium and you can find this in a 750-ml. bottle size.
Absolut Vodka: An Overview
Absolut Vodka first entered the American market in the year 1979 and has since become the second most popular vodka name around the world. It is currently sold in over one hundred and fifty markets worldwide.
From its humble beginning sales of ninety thousand liters, annual sales of this vodka brand have reached a staggering ninety-nine millions of liters, based on a 2010 statistical data.
No matter which part of the globe you are purchasing your Absolut Vodka, know that every bottle is produced in just one area: a locality in Sweden known as Åhus, located south of the country.
On the official website of the Absolut Company, you can find cocktail mixes that you can use for your parties.
From the simple Absolut Vodka Tonic to Absolut Cranberry, you can be your own bartender and mix your own drinks.
Other variations that you can find for your vodka cocktails are: Absolut Vodka Martini, Vodka Gimlet, Vodka Pomegranate Julep, Absolut Seabreeze, Gibson and Bellini, to name a few.