Bikinis vary widely in size due to the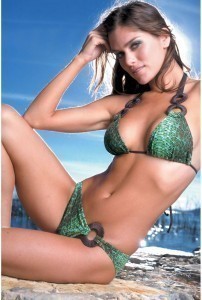 many designs. The information provided below is only a general guide.
An Overview of Bikini Sizes
A size 2 usually is suitable for those with a bust of 28.5, a waist of 21 and hips measuring 30.5. A size 4 is good for those with a bust measuring 29.5, a waist measuring 22 and hips 31.5. Sizes 2 and 4 are usually labeled XS.
Size 6 is for those with a bust measurement of 30.5, a waist 23 and hips 32.5. Size 8 is usually recommended for those with a 31.5 bust, 24 waist and 33.5 hips. Sizes 6 and 8 are labeled S.
Size 10 measurements are usually 32.5 for the bust, 25 for the waist and 34.5 for the hips. For size 12 it is 34 for the bust, 26.5 for the waist and 36 hips. These bikini sizes are classified as M.
The measurements for size 14 are 36 for the bust, 28 for the waist and 38 for the hips. For size 16, the bust is 38; the waist is 30 and the hips 40. Sizes 14 and 16 are classified as L.
These sizes are for the United States. In Australia, the small sizes are 8 to 10; in Japan it is 7 to 9; in Germany it is 32 to 34 (cm); in France it is 34 to 38 and in the UK it is 6 to 8.
Bikini Sizes: Tops and Bottoms
The measurements are in inches.
Needless to say, bikini tops and bottoms come in a variety of styles. More than anything else, it's their coverage that can affect their size. A teardrop bikini top may measure 5 high x 2 3/4 wide. This size is suitable for cups B through D. Of course, the bigger the cup size, the less will be covered; this is true for all
bikini tops and bottoms.
A micro bikini top measures 5 1/2 high x 2 1/4 wide (for cups B to D). A tiny top measures 6 high x 4 wide. This is also suitable for cups B to D. A rounded B cup is about 5 1/2 high x 6 wide, while a regular C cup is 6 1/2 high x 7 wide.
The teardrop bikini bottom is about 7 high x 3 1/2 wide (from the front to the back it is 7 high x 3 1/2 wide). Bikini sizes for a micro bottom varies, but a lot measure 6 1/2 high x 3in wide. The G string bikini measures 6 1/2 high x 6 1/2 wide, while a tiny thong is 6 high x 3 3/4 wide.
Other Sizes
The mini thong measures 6 high x 4 3/4 wide.A mini-mini bottom may be 3.9 wide x 4.7 long. A micro Brazil is 3.94 wide x 4.7 long and the slingshot 4.7 wide front x 5.5 long.
There are just examples. There are probably hundreds of styles out there, but knowing the basic bikini sizes should help you make the right choice.