Sofas are comfy pieces of furniture that are nice to have around any Sofa Dimensions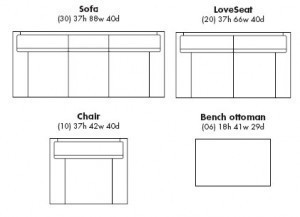 kind of home. At first sight, they may look bulky and huge but they can easily fit into even a minimalist house if the owner knows exactly how to shop for the right size.
As with any kind of furniture, the choices for the perfect sofas are wide and varied. You will surely find the most accurate size and type for your kind of need. One reason that is possible is because sofas can now be customized. Yes, you can ask your furniture maker to create a piece that is cut out to meet your preference. Your sofa can be bigger or smaller that what is available on the by running an extra mile and spending a couple of dollars more.
Aside from the many different variables to be considered when shopping for a sofa, there's the fact that sofas come in different styles. One of the more prominent types is the loveseat. Then there's the standard three-seat sofa chair, which reigns in most living room areas. As those two are the most common, we would concentrate this sofa dimensions article on both of them.
The Loveseat
The loveseat comes in small, medium, and large sizes. The small loveseats, which are deemed perfect for studio-type units and every minimalist kind of home there is, measures at 58 inches. The medium-sized loveseat, meanwhile, measures about 64 inches. The huge loveseat variety, which looks perfectly fine in a spacious living room, measures 71 inches. Those are the standard loveseat sofa sizes. It must also be noted that those measurement pertain to the furniture length.
Again, if you need to have yours customized so it will fit in perfectly to your space, you can always opt for that.
The Three-Seat Sofa
Three-seat sofa chairs have a standard size of 76 inches. That measurement pertains to the length. When talking about sofa dimensions, especially the kind with a frame, it usually involves depth and height measurements. The standard measurements for a three-seat sofa chair are 30 inches deep and 31 inches high. The depth of the sofa spells all the comfort a sofa can give. The height, meanwhile, is measured from the floor to the top of the back cushion.
The Back Cushion
Another measurement that usually matters to people shopping for sofas is the thickness of the back cushion. The standard thickness of back cushions, whether it's a loveseat or a three-seat sofa chair, is about 8 inches. That speaks comfort for most people.