RV is an acronym that stands for recreational vehicle, which is widely used particularly in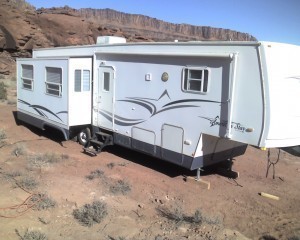 North America. Also referred to as a motor home, it boasts of different home and living space features such as a bedroom, a bathroom as well as a kitchen. In bigger models, it comes with a living room. In other countries, this type of vehicle is often called a camper van. There are many other interesting things to find out about it including the different RV dimensions.
The Dimensions of Recreational Vehicles
The sizes of RVs vary depending on what type they are made of, the most common of which are fifth-wheel trailers, truck campers and class-A motor homes. For instance, larger fifth-wheel trailers have lengths of more than 12.2 meters or 40 feet. In terms of weight, these RVs can be as heavy as 8,200 kilograms or 18,000 pounds. Smaller RVs are usually less than 5.5 meters or 18 feet long. Their weights range somewhere between 1,400 kilograms or 3,000 pounds and 320 kilograms or 700 pounds, although there are versions that weigh even less.
The average length of mid-range RVs stands between 5.5 meters and 7.6 meters or 18 feet to 25 feet. In terms of weight, they weigh more than 2,300 kilograms or 5,000 pounds. More often than not, sport utility vehicles and compact pickup trucks tow them. Although they share similar features and amenities with bigger travel trailers, fewer people can sleep in them.
The average length of bigger RVs is between 7.6 meters to 12 meters or 25 feet to 40 feet. These vehicles are usually packed with different interesting features, most of which are intended to offer luxury and convenience. Their average weight stands somewhere around 5,400 kilograms to 7,000 kilograms or 12,000 pounds to 15,500 pounds.
Additional Facts and Other Interesting Details
In terms of basic features, RVs commonly have a food preparation area, a table and a bed. Furthermore, they must also have storage areas, especially since they are intended for travel. In bigger versions, they can have master bedrooms, living areas as well as full bathrooms. To offer luxury and convenience, some of them even have Internet access, satellite TV and refrigerators. It is also possible for RVs to have other elaborate features such as awnings and slide-out sections.
In terms of prices, these vehicles can cost from as low as $10,000 to as high as $1,500,000. They offer a number of important advantages including no home mortgage and no council tax. Those who have such vehicles can stay in national parks, state parks and city parks.