Eating out is interesting for everyone. Scouting the best restaurants is one of the finest adventures you could get into. If you like touring the world, in search for the best restaurants, taking the road towards the biggest restaurant is a nice start.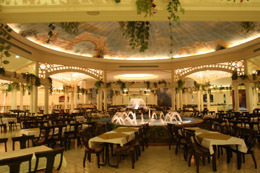 To date, the biggest restaurant is located in the Damascus suburb in Syria. It garnered the spot at the Guinness Book of World Records after displaying the 6,014-seater dining place that was opened just about three years ago. It took the crown from Bangkok, Thailand's Royal Dragon Restaurant, which can serve 5,000 people at a time with many different types of cuisines from around the world.
Bawabet Dimashq
The Syrian diner that succeeded the Royal Dragon Restaurant as the world's biggest restaurant has an Arabic name of Bawabet Dimashq. It is a family-owned company, run by Muhannad Samman as the general manager. It was Samman's idea to appeal to Guinness for the world record. He is a restaurateur who studied in London and was personally involved in building the $40-million project. Good thing, Guinness paid attention and in no time, was able to finish the verification process, handing out the title to Bawabet Dimashq just recently.
Bawabet Dimashq operates with over a thousand staff members, 1,800 during the busy months of summer. It has a total dining area of about 54,000 square meters and a kitchen area of about 2,500 square meters.
One of the more notable things about Bawabet Dimashq is its outdoor dining, where one can enjoy the view of fountains and waterfalls. The huge dining area is also sectioned according to its themes and offered cuisines.
The restaurant's secret in being able to feed as much number of diners at a time is excellent management. Every staff member has his own personal task to do. Since the dining area is divided into sections, it is also easier to for everyone to move around and offer outstanding service at short notice.
Bawabet Dimashq offers Indian and Chinese cuisines. One of its more popular dishes is hummus, a dip made from mashed chickpeas that was blended with the flavors of olive oil, tahini, salt, garlic, and lemon juice. Every minute, one of Bawabet Dimashq's chefs can produce 25 to 30 serving bowls of hummus. That is to say that you do not need to wait in line for a lifetime before you can enjoy a meal at the world's biggest restaurant. Bawabet Dimashq can efficiently serve its patrons, even if their 6,014 seats are filled at a time.