How Tall is The Tallest Hotel?
Also known as Rose Tower, Rose Rotana is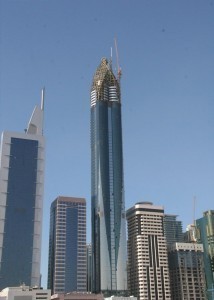 the world's tallest hotel. It is situated along Sheikh Zayed Road at Dubai in United Arab Emirates. The construction of this establishment started in 2004 and ended in 2007. The height of the place surpassed nearby hospitality service providers in the world like Burj Al Arab with a height of 321 meters. It is also taller than the popular Ryugyong Hotel in North Korea, which height reaches 330 meters. Below are technical details as well as a brief profile of Rose Rotana.
The Height of Rose Rotana
How tall is the tallest hotel? Rose Rotana has a height of 333 meters. The planned height of the establishment is 380 meters, but it was reduced when modifications in the architecture of the hotel were introduced before the construction began. The height from the ground floor to the roof of the establishment is 315 meters and from the ground floor to the top floor, the height is 258 meters. The total floor area of the place is 51,445 square meters. The establishment has 72 floors and it has 482 rooms.
Additional Information and Other Important Details
The establishment was designed by Khatib and Alami Group. This establishment is not only known as the tallest hotel in the world, but it is also included in the list of the world's tallest buildings and structures. In order to know more about this establishment, let us have a glimpse at the facilities of Rose Rotana.
Aside from 482 rooms, the establishment provides special areas where visitors can have wireless Internet access. For the comfort of everyone, the place provides dedicated parking area and valet parking. Visitors will not have problems communicating with the management of the establishment because it employs multilingual staff. Tourists who want to have a tour to nearby attractions can avail of the car and limousine rental service available at the place.
The establishment provides round-the-clock dining service. Additionally, there are several dining establishments found inside Rose Rotana like the Café Rose and the Petals Restaurant. For recreation, the hotel has a fitness center with cardiovascular and weight training programs as well as a gymnasium. Moreover, the place has an outdoor swimming pool for adults and children. Business travelers can hold meetings and seminars in the establishment because it features several conference rooms and a business center. All the conference rooms are equipped with audio-visual systems as well as wireless connections.