Biggest Estate in the World
Measuring 480,000 square feet (45,000 square meters), Windsor Castle is considered as the biggest estate in the world. It occupies 13 acres and the castle itself contains 13,000 rooms in total. The home of British Royalty, it is located in Berkshire, England.
Windsor Castle stands at the heart of an artificial hill constructed by William the Conqueror in the year 1070 AD. Originally built out of wood, William had the castle erected in that particular spot because it was a strategic location. In 1350, King Edward of Windsor commenced a 24-year plan to rebuild the castle, spending £51,000 on its renovation, the most that an English medieval ruler had ever spent on renovating a building.
Throughout its 900-year history, Windsor Castle had been a fortress and, occasionally, even a prison, adapting to whatever state the kingdom was in at a particular time. It was during the reign of Edward III that the estate was made into the residence of the British Monarchy. The castle would be damaged and once more restored many times in the succeeding years.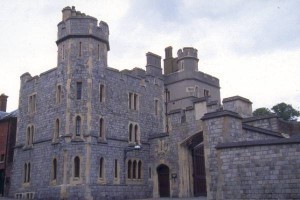 One of the notable features of Windsor Castle is the Round Tower, which, contrary to its name, is not actually round. Though it may appear to be so, the tower is really shaped like a cylinder. The tower's irregular shape was designed to be in synch with the shape of the hill it is situated upon. The Round Tower separates the castle's 2 distinctive divisions, referred to as the Wards. One of these, the Lower Ward, houses St. George's Chapel, which was first constructed by King Edward in 1475. The other section, the Upper Ward, contains St. George's Hall, an immense room adorned with the coats of arms of the Order of the Garter's former and current members. This ward also contains the Royal Apartments, as well as a number of formal state rooms.
Another prominent part of Windsor Castle is the Home Park, which consists of a parkland and 2 working farms. The Home Park also has a number of estate cottages, which are mainly the residences of the castle employees. Also located within the park is the Frogmore House and Gardens, which is made open to the public during specific days of the year. Apart from the Frogmore, the rest of the park is never made open to the public. Near the Home Park lies Windsor Great Park, while St. George's private school stands within the Home Park north from the castle.