Ideal Christmas Cake Size
Fruitcake is the traditional Christmas cake served in different countries around the world, particularly in the United Kingdom, United States, Japan, the Philippines and Ireland.
Traditionally, this type of cake is laced with brandy while other recipes use rhum. The ideal Christmas cake size for this is about five inches or approximately thirteen centimeters for a square cake, while a round one should be about six inches or approximately fifteen centimeters.
These sizes weigh about 625 grams or approximately 1.5 pounds.
Serving portions for Christmas cakes are usually about two bite-sizes big. Since these are laced with some type of liquor, it is not recommended that you serve this in the usual cake slices sizes.
Cake Size Options
There are however other tin sizes available that you can use for baking this cake. Depending on the number of people you will be sharing this cake with, you can make fruitcakes in various sizes.
Sizes of tins used for Christmas cakes are from six inches up to twelve inches or fifteen centimeters up to thirty centimeter or the square tins; and seven inches or eighteen centimeters up to twelve inches or thirty centimeters for the round tins.
The biggest-sized fruitcake weighs about 6.5 kilograms or approximately 14 pounds.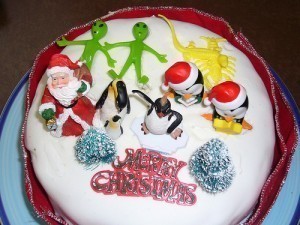 You have to first determine the size of the tin that you will be using so you can have the exact measurements of all ingredients that will go into the cake based on your size preference.
Be careful not to put too much liquor into the cake as this might spoil the taste, not to mention get the kids drunk if they will also be partaking the cake during your Christmas celebration.
On the other hand, you may also opt to make a separate Christmas cake for them minus the liquor.
Fruitcake Ingredients
This Christmas cake has several fruit ingredients for the traditional variety. You can add your own fruits according to your specifications as well.
Usual fruits in this cake are currants, sultanas, and glace cherries. Mixed peel, blanched almonds, grated lemon grind, ground cinnamon, black treacle and ground mixed spice may also be added but these are optional ingredients.
You will also need butter, plain flour, light brown sugar, and brandy or rhum. For a regular size fruitcake, which is the 5-inch and 6-inch size for the square and round tins, respectively; about two tablespoonfuls of brandy or rhum should be enough.
For the biggest size, which is about thirty centimeters or twelve inches, eight tablespoonfuls of rhum or brandy should do it.