Best Picture Size for Twitter Background
The best picture size for Twitter background ranges from 1024 x 768 to 1280 x 854 and higher. The higher the image resolution is, the less stretching required. Large images also mean that they will look good on high resolution monitors.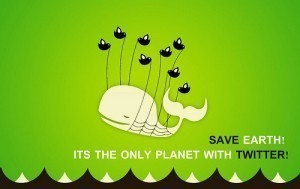 Browser and Screen Sizes
When selecting an image for Twitter, be certain that it can be displayed on different web browsers and computers. Some monitors are only able to display small narrow pictures. Hi res monitors can display large wide images.
The ideal solution is to use a background picture with widely used resolutions (i.e., 1280 x 854, 1024 x 768 etc). You can be assured the image will be viewed properly with different monitors. It also ensures compatibility with web browsers.
Formats and File Sizes
When deciding on the best picture size for Twitter background, remember the service has a file size restriction. The biggest image you can use as background is 800 kb. The service is more lenient when it comes to image dimensions. It is more concerned with the resolution. The higher the resolution, the larger it will be. The accepted file formats are GIF, JPG and PNG. However, the GIF files cannot be animated.
Background Customization
Twitter gives you a couple of options for customizing the background. You can upload your own image or selecting from a pre-designed background. Both are accessed the same way. Click your name and choose "Settings". Go to the "Design" tab. Choose "Change Background Image."
Make a choice among the many options provided by the service. If you have your own picture, choose "Upload". You can use your own picture or something you have downloaded from the web.
Other Considerations
The Twitter feed takes up middle 80% of the page. That is what your followers will see when they look at your profile. Choose an image whose features can be seen on the edges. Otherwise, people will not be able to realize what the picture is.
Place important information on the left side because the image is left aligned. The image is at the left of a web browser. If a user opts to make their browser window wide, they might not be able to see the contents on the right. Making preparations is the key.
To get the best picture size for Twitter background, use 65 to 194 pixels for the profile background left side. The content width is 865 pixels. The rest can be for the background.