Best Dimensions for Twitter Background
The best dimensions for Twitter background is open to debate. Many set the image at 1024 x 768 pixels. But they also extend it and fade the edges. This keeps the image looking good on a big monitor. In fact, dimensions of 1600w x 900h pixels (or 22.222 inches by 12.5 inches) is becoming common on Twitter.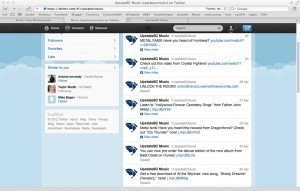 Primary Size Considerations
When creating a background, you need to be certain that it will appear fine to different web users. Remember that people use different screen resolutions. The trick is to make the image appear right. That is why fading the edge is necessary. If you don't do this, background edges on large hi-res monitors will have the edges cut off. That is why some prefer 1600w x 900h for the best dimensions
for Twitter background.
But if you have a large picture, see if you can extend it to 2500w x 1600h pixels (34 inches by 22 inches). With this figure, the image will be compatible with all screen resolutions. There is no need to use fading on 2500 x 1600 backgrounds.
Anything smaller will require fading the bottom and right side of the picture. If not, the image will appear to have a sharp cut at the bottom and right sides on a hi-res monitor.
Colors and Alignment
Use the same color for fading the right sides and bottom. You also have to place the color code in the Design section of your Twitter settings. The website aligns the background to the left top. That is the reason why you have to fade the bottom and right of the image.
To put in faded background color, head to your Twitter account. Choose Settings. From the menu, choose design.
Choose "change design colors". After clicking the background box, add the color hexacode. It is at the box where the numbers are. Every color has hexacode characters that represent them. Example: white is ffffff and black is 000000.
Screen Resolution
You cannot learn the best dimensions for Twitter background without understanding screen resolution. It refers to the computer monitor resolution. It signifies the pixels that are displayed. The first figure is the width. If the monitor is 1024 x 768, it means the display is 768 pixels high and 1024 pixels wide.
There are many programs which allow you to create image backgrounds for Twitter. When setting up an image, set the proper pixel dimensions. You can make the image as fancy or simple as you like.