Bed Sizes from Smallest To Largest
Your bed's size is an important factor that can make or break the comfort level of your bedroom. It is highly significant that you are able to choose the perfect size that will fit your needs, your requirements, and the amount of space available in your bedroom space.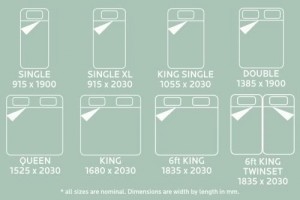 Before you find the right size of bed, you have to know the available sizes first. Find below the bed sizes from smallest to largest.
Smallest to Largest Beds
The smallest bed size is the single bed, which is also known as the twin bed. The twin bed or single bed measures 36 inches wide and 75 inches long. It is also the ideal size for bunk beds that work best for school-age kids but you could also use it as a guest bed. It can make enough room for one adult.
The full bed or the double bed size is next. It measures 54 inches wide and 75 inches long. It is roomy enough for a single sleeper but it can also accommodate two sleepers, given that they are not too big adults.
The Queen bed is the next of the standard size beds. It measures 60 inches wide and 80 inches long. It is ideal for a couple. There are several categories to the queen size bed. There is the California Queen, which is 4 inches longer than a standard queen and a Super Queen, which is 6 inches wider.
The King bed size is the largest of the bed sizes. It is 76 inches wide and 80 inches long. It is almost a perfect square, providing roomy space for the most comfortable sleeps. Like the Queen bed, there are also subcategories to the King bed. There is the California King, which is 4 inches narrower but 4 inches longer, measuring 72 inches x 84 inches. For a really grand sleeping comfort, there is the Grand King, which measures 80 inches wide and 98 inches long.
Tip about Sizes
There are different dimensions for different sizes of bed. You must also realize, however, that bed sizes may also vary according to countries. Some countries have their own standard names and sizes and terminologies.
When choosing a bed, always ask the dimensions of the bed itself. That way, you will be able to establish if it actually fits to the available space in your bedroom. It is difficult to just order a queen or a twin, without inquiring about the actual dimensions. For all that you know, they may be a different unit altogether from the one you know about.