You know you write good songs and you play good music but somehow, your band just isn't getting the kind of attention it deserves. This is a common problem of start-up bands – and even those that have been around for years – and the problem may be that you are not promoting your band as much as you should.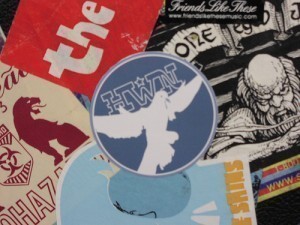 Utilize whatever resources you have and start promoting your band more aggressively. Posters and stickers are actually a good way to start advertising your band. These are inexpensive and you can totally do these on your own.
You can start with band stickers if you have no gigs to promote and since these are smaller than posters, you may find it easier to design.
Band Sticker Dimensions
Band stickers should be of a size that will allow people to post these on any flat surface; from closet doors to car bumpers, notebooks, helmets and bags. This way, you get more exposure.
Band sticker dimensions actually vary depending on the shape of the sticker. There are square, circular and rectangular stickers and these have their own specific measurements.
Unlike with posters where you generally get a rectangular and on occasion, square shapes; stickers come in different shapes to add fun and flexibility to the design.
A square sticker usually starts at three inches. The recommended maximum size for a square band sticker is four inches.
For a rectangular sticker, sizes are generally 2 inches by 4 inches; and 3 inches by 5 inches. For a bumper sticker, which is also rectangular in shape; common dimensions are 2 and one-sixteenths inches in width by 9.25 in length.
A circle-shaped sticker, recommended for band promotions, should be about three to four inches in diameter.
Other band sticker sizes that are usually ordered from the printer's are 2.75 inches by 11 inches; 3 by 11 inches; 3.5 inches by 6 inches; 7 by 2.5 inches; and 5 inches by 2.5 inches.
DIY Band Stickers
Here comes the fun part: designing your own band stickers. You should know that you do not necessarily have to have excellent graphics and lay-out skills.
There are websites that offer DIY stickers and they have instructions that you can follow to create the perfect sticker of practically any size and shape.
There are background templates that you can immediately use and you just have to select images from your own image bank; and insert these onto the template.
Once you have completed the lay-out, some DIY sites also offer printing services so you can create your own stickers and have them printed by same website that helped you with your DIY project.