Cakes have always been a part of special occasions and celebrations. From wedding receptions, anniversaries, birthdays and other milestones in one's life; cakes simply add to the festive atmosphere of any type of celebration.
Anyone who's ever baked a cake has often considered their creations their masterpieces and the more decorative it is, the prouder they are of their work of art.
This is why a lot of dessert chefs and bakers from all over the world are always trying to come up with ways to top their last cake feat to offer their guests, clients, families and friends a slice that's better than the last one.
World's Tallest Cake
Cake-making competitions are some of the most popular food contests around the world and making the tallest cake in the world is one feat that a lot of bakers have attempted to do to make it in the list of Guinness Book of World Records.
This attempt has produced huge cakes that tower several feet from the ground with some toppling down even before completion due to temperature changes, among other things.
Shiawassee County, Michigan
There are actually several claims on the tallest cake ever baked. One is said to be made by a baker for the Shiawassee County Fairgrounds back in 1990. This cake was said to have stood at a towering 30.85 meters or roughly about 101 feet and 2 and one-half inches.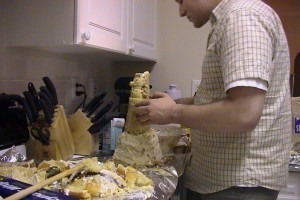 It had one hundred tiers in all and it was completed on August 5 back in 1990.
Kovalam, India
The town of Kovalam which is part of the state of Kerala in India boasts of having produced the tallest cake in the world back in 2007. Chefs from the Uday Samudra Leisure Resort worked on the cake for 3 weeks and came up with a towering 29.1-feet high cake.
The cake was estimated to have weighed a whopping 25000 kg. which consisted of two hundred kilograms of flour, one hundred and twenty kilograms of sugar, one thousand and five hundred kilograms of egg mix and fifty kilograms of dried fruits; among others.
Paris, France
What do you get when you blend architecture with the art of pastry-making? You get the Tour Sans Faim. In English, this means Tower Without Hunger. The project is a cake aimed at bagging the title of the tallest cake in the world.
It was completed some time in July 2010 and stood at a towering 25.65 feet tall. The cake however did not stand for very long because of temperature changes but the height nevertheless was first achieved before the cake leaned a la Tower of Pisa.