Wooden wine boxes not only provide protection for your bottles of wine but they also make for excellent containers that make your wines more presentable, especially when being given as a gift.
A wooden wine box size comes in at least four different dimensions for the portable type. Depending on the size, your wine box can hold one bottle of wine, three, six and up to twelve bottles per box.
A single-bottle wine box is approximately 330 millimeters x 92 millimeters x 100 millimeters. A bigger wooden wine box, also for a single bottle, is about 415 millimeters x 120 millimeters x 120 millimeters.
The size of the box may also vary depending on the design. More elaborate designs tend to be just a few millimeters wider or longer.
Other Wine Box Sizes
Aside from the single-bottle box, you can also get other sizes that can fit several bottles of wine.
A two-bottle wine box has approximate measurements of 330 millimeters x 182 millimeters x 100 millimeters; while a box that can hold up to three bottles of wine is approximately 330 millimeters x 275 millimeters x 100 millimeters.
If you need a wooden wine box that can hold six wine bottles, you should check for one with dimensions of 325 millimeters x 195 millimeters x 575 millimeters.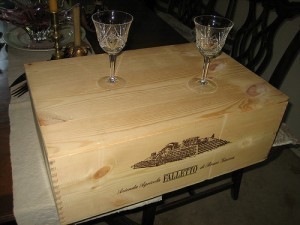 An elaborately-designed wine box, with intricate details and complete with lock and key can measure about 25 and 5/8 inches x 5 inches x 12 inches.
Personalized Wine Boxes
If you are giving the wine as a gift, placing it in a personalized wine box will make the gift even more appealing to the recipient.
Usually, wine box manufacturers or even suppliers accommodate clients' requests for personalizing the wine box with their special message or the name of the recipient.
They can also create a different finish for the boxes if you have other specifications in mind.
Also, personalizing your wine box is essential if you are planning on having it shipped to another location.
When choosing appropriate boxes for your wine bottles, it is also important that you stick with the dimensions that you need to fit the right number of bottles. The bottles have to be snug inside the box.
You don't want them to be loose inside the box, especially if you are storing several bottles at a time. This will prevent the bottles from breaking should you need to move the box around.
Finally, make sure that the handle is sturdy enough to support the box also to ensure that the wine bottles are going to be safe when carrying the boxes.