It is highly interesting to find out the smallest man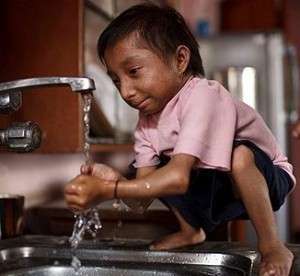 in the world. Unlike people with normal height and weight, this individual is definitely much different especially in terms of lifestyle. Most often than not, people of such stature are suffering from certain medical conditions, which make their appearances different from that of others. In addition to these interesting details, it is also good to know certain facts about the world's smallest man.
The Smallest Man in the World
According to the annual reference book entitled "Guinness World Records," the shortest man in the world today is Lin Yu-chih, who currently lives in Taipei, Taiwan. He has a recorded height of 2 feet and 2.58 inches or 67.5 centimeters. He works as a social activist and an author. Hosted by English comedian Mark Dolan, he was featured in the documentary show entitled "The World's Smallest Man and Me," which was shown in the British Channel 4 in May 2008.
Additional Facts and Other Interesting Details
Based on medical findings, Lin Yu-chih is suffering from a genetic bone disorder referred to as osteogenesis imperfecta. The disease hindered the normal growth of his bodily height and bones. Aside from his name, he is also known as Dominic DeMartini. He was credited for founding the Osteogenesis Imperfecta Association.
Aside from Lin-Yu-chih, other individuals claimed to be the world's smallest man. One of them is He Pingping of China, who measures 2 feet and 5 inches or 73 centimeters. He is considered by the Guinness World Records as the shortest man in the world who can walk. He hails from the Inner Mongolia Autonomous Region, which is also home to one of the tallest men in the world today, namely Bao Xishun, who stands 7 feet and 8.91 inches or 2.36 meters tall.
Another claimant to be the smallest man in the world is Khagendra Thapa Magar of Nepal. However, his Guinness World Records application was not included because he was only 14 years old during that time. When he turned 18 years old, he measured 56 centimeters or 22 inches high. His mother's name is Dhana Maya, while his father's name is Rup Bahadur. He and his family came from the Baglung District, which is part of the Dhawalagiri Zone in the country of Nepal. Villagers used to call him 'little Buddha' for his very short stature.
At birth, he only weighed 600 grams or 21 ounces. Nowadays, he is said to weigh as much as 5.5 kilograms or 12 pounds. Just like Lin-Yu-chih, he also appeared in the documentary entitled "The World's Smallest Man and Me," which aired in the British Channel 4 sometime in May 2008.