What is the size of Rhode Island?
The size of Rhode Island is 1,545 sq miles or 4,000 sq km.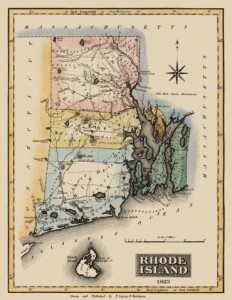 Rhode Island is 37 miles (60 km) wide. The length is 48 miles (or 77 km). The capital is Providence.
Geographical Information
The water area is 32%. The latitude is 41 degrees, 09' N to 42 degrees, 01' N and the longitude is 71 degrees, 07' W to 71 degrees, 53' W. Jerimoth Hill at 812 ft (257 m) is the island's highest point. The Atlantic Ocean is the lowest at 0 ft (0 m). The mean is 200 ft (60 m).
When measuring the size of Rhode Island, it is usually divided into the lowlands of Narragansett Bay and the New England Upland. Block Island is 12 miles (19 km) off the mainland. The largest island is Aquidneck Island.
Conanicut is the second biggest island and Prudence is third. Narragansett Bay encompasses over 30 islands. The official state rock is Cumberlandite, which is located only in Rhode Island.
Population through the Years
The 2008 population estimate was 1,050,788. The density is 1,012 sq mi or 390.78 sq km, second in the US.
The earliest census dates from 1790. It stated the population was 68,825. It rose to 83,059 in 1920 and to 108,830 in 1840. Rhode Island's population was 217,353 by 1870 and reached 428,556 by 1900.
Rhode Island's population according to the 1920 census was 604,397. By 1950 the population had gone up to 791,896. The figure rose to 946,725 in 1970. The 1990 census showed the island's population had reached 1,003,464.
Size of Rhode Island Cities
Providence is the biggest city by population with 175,255, followed by Warwick with a population of 85,925. Cranston is at number three (population 81,479). Pawtucket is at number four with a population of 72,998.
East Providence is at number five with 49,123 and Woonsocket is at sixth place with 43,940. Newport is in seventh place with its population of 24,409. Central Falls is next (population 19,159).
Other major cities are Westerly (17,682), Barrington (16,819) and Valley Falls (11,599). Newport East has a population of 11,463, while Greenville has 8,626 residents.
The population of Wakefield-Peacedale is 8,468. Cumberland Hill's population is 7,738 and for Tiverton it is 7,282. Kingston's population has been estimated at 5,446.
Rhode Island Cities by Housing Units
If the size of Rhode Island cities will be by housing units, the figures will be as follows. Providence has 67,915 followed by Warwick with 37,085. Cranston is third with 32,068 and Pawtucket is next with 31,819. East Providence is at number five with 21,309 and Woonsocket is at sixth with 18,757.
North Providence is in 7th place with 14,867 housing units. Newport's housing units number 13,226. West Warwick is ninth with 13,186 and Bristol at tenth with 8,705 housing units. Westerly is at number 11 with 7,812, Central Falls is next with 7,270 while Barrington has 6199.
The size of Rhode Island puts it in 50th place among all the states. But its cultural and geographical features rank among the highest in America.