What are the Dimensions of a Soda Can?
There is nothing more refreshing than to drink ice-cold soda especially during warm sunny afternoons.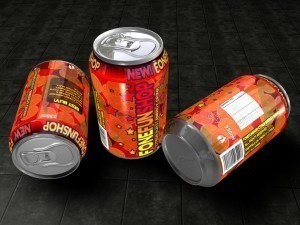 Likewise, it is guaranteed to quench away the thirst of people after extensive exercise. With the help of soda cans, they can easily enjoy the goodness of refreshing drinks almost anytime and anywhere. Aside from their delightful taste and soothing effect on tired bodies, they also offer utmost convenience like no other. In addition to all these wonderful benefits, it is also good to know the different dimensions of a soda can.
Soda Can Dimensions
Based on records, the dimensions and sizes of soda cans differ according to the locations where they are produced. For people living in North America, the standard size of their cans is 12 U.S. fluid ounces or 355 milliliters. In India, soda cans hold as much as 11.2 U.S. fluid ounces or 330 milliliters. Several European countries also use this measurement as their standard. However, certain locations in Europe recognize 16.9 U.S. fluid ounces or 500 milliliters as second standard.
In Australia, soda cans are expected to hold 12.7 U.S. fluid ounces or 375 milliliters. People living in South Africa consider 11.2 U.S. fluid ounces or 330 milliliters as the standard measurement for their soda cans. Likewise, a promotional size containing 14.9 U.S. fluid ounces or 440 milliliters is also released in this country.
If you are to empty a soda can, its weight will significantly go down to an ultra light 0.5-ounce or 15 grams. In order to reach an avoirdupois pound or 450 grams of weight, you need to collect as much as 30 cans. In terms of thickness, the walls of every can measure about 90 micrometers. In places like Australia, the U.S. and New Zealand, the diameter of each is usually 65 millimeters or more. This is not only true for soda, but also for other beverages like beers, soft drinks and ready-mixed spirit drinks. The sizes in other countries in Europe are narrower, which measure about 52 millimeters.
Additional Details and Other Interesting Facts
It is important for manufacturers to prevent the metal from being in contact with the beverage. To do this, the inner walls of the container must be coated with important chemical compounds such as vinyl organosols, epoxy phenolics and others. Likewise, the packaging, handling and distribution of these cans must be done with proper care, especially because they are exposed to outside factors like dirt and dust. By doing these all-important measures, the freshness and goodness of the beverage are always guaranteed.