What is the Size of Pennsylvania?
Found within the Middle Atlantic and Northeastern regions of the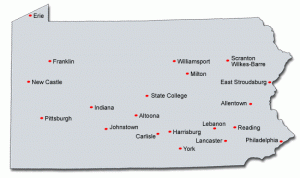 United States, Pennsylvania is surrounded by New Jersey in the east, Ohio in the west, Ontario in the north and Maryland as well as Delaware in the south. The three most populous cities in the state are Allentown, Pittsburgh and Philadelphia. The capital city is Harrisburg. Some of its nicknames include 'the State of Independence,' 'Quaker State' and 'Keystone State.' For those who want to find out more about the place, it is good to know the size of Pennsylvania.
The Size of Pennsylvania
What is the size of Pennsylvania? In terms of total land area, Pennsylvania ranks 33rd overall in the U.S. It measures 46,055 square miles or 119,283 square kilometers. The estimated width is 280 miles or 455 kilometers. The approximate length is 160 miles or 255 kilometers. Its coastline along Lake Erie measures 51 miles or 82 kilometers. Its Delaware Estuary shoreline measures 57 miles or 92 kilometers. The highest point is the area is Mount Davis, with an approximate height of 979 meters or 3,213 feet. The Delaware River is the lowest point.
Additional Facts and Other Important Details
In the southeastern side of Pennsylvania, you can find the cities of Lancaster, Reading and Philadelphia. In the southwestern part of the state, there is Pittsburgh, while the state capital Harrisburg is located somewhere in the central region. In the central eastern region, you can find the tri-cities, namely Easton, Bethlehem and Allentown. The most populous area in the state is Perry County, specifically in the Duncannon borough.
The total gross state product of Pennsylvania in 2008 was valued at $553.3 billion, which was sixth best in the country. The City of Philadelphia features a total six companies listed in the Fortune 500, one of which is financial and insurance industry leader King of Prussia. Meanwhile, Pittsburgh has a total eight Fortune 500 companies including H. J. Heinz, PPG Industries and U.S. Steel. Overall, the total number of Fortune 500 companies based in Pennsylvania is 50.
The state provides a number of employment opportunities for its residents. Some of the largest employers in the area include United Parcel Service, the University of Pennsylvania and Wal-Mart. Other notable employers in the state are Merck & Co. and Giant Food. In terms of agricultural production, this state ranks 19th overall countrywide. Its top agricultural outputs include grapes, Christmas trees as well as mushrooms. The state also allows different forms of casino gambling, which include electronic table games, slot machines and horse racing.