What is the size of Iowa?
One of the Midwestern states in the U.S., Iowa is known by the nicknames 'the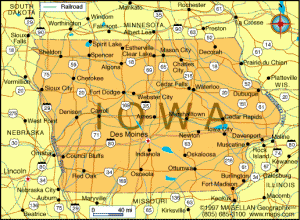 Tall Corn State' and 'the Hawkeye State.' It lies next to Des Moines River, the Big Sioux River, the Missouri River and the Mississippi River. Its capital is Des Moines, which is also the largest city in the state. Here, you can find natural lakes such as the East Okoboji Lake, West Okoboji Lake and Spirit Lake. There are also various manmade lakes here including the Rathburn Lake, Lake MacBride and Saylorville Lake. In addition to these important facts, it is nice to know the size of Iowa.
The Size of Iowa
What is the size of Iowa? The land area in Iowa ranks 26th overall in the United States, which measures 145,743 square kilometers or 56,272 square miles. It has a width measuring 500 kilometers or 310 miles, with a length of 320 kilometers or 199 miles. The lowest point in the state is the Mississippi River, which measures 146 meters or 480 feet high. On the other hand, the highest point is Hawkeye Point, which measures 509 meters or 1,670 feet high.
Additional Facts and Other Important Details
Just like the other Midwest states, Iowa has a climate described as humid continental. People living here experience extreme cold and extreme heat. At Des Moines, the average annual temperature is 10 degrees Celsius or 50 degrees Fahrenheit. During summer months and spring, tornadoes are very common. In a single year, residents living in the state usually encounter more or less 37 tornadoes.
Although many people view Iowa as more of a farming state, agriculture only plays a little role in its economy. Instead, the major contributors are the government services, insurance services and biotechnology industry. As the largest sector of the state, the manufacturing industry contributed 21 percent of the gross state product in 2003, which was valued $20.8 billion. There are many companies with processing facilities in the area including Quaker Oats, General Mills and ConAgra Foods.
The insurance and financial sector is also very solid in this state, with more or less 6,100 firms in existence. Some of the most notable firms include Marsh Affinity Group, Aviva USA and Principal Capital Management. The biotechnology industry is also very progressive, which is led by companies like Fort Dodge Animal Health, Roche Applied Science and Boehringer Ingelheim.
The state also features a good education system, comprised of primary and secondary schools, world-class universities and globally competitive colleges. Some of the most notable educational institutions in the area include the University of Northern Iowa in Cedar Falls, the University of Iowa in Iowa City and the Iowa State University in Ames.