What is the size of Alabama?
Located within the southeastern part of the U.S.,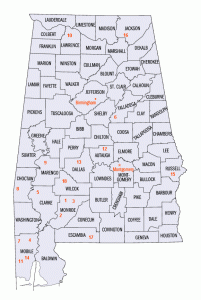 Alabama is a state that goes by the nicknames 'Cotton State,' 'Heart of Dixie' and 'Yellowhammer State.' Its largest city is Birmingham, while its capital is Montgomery. Its population is ranked 23rd in the country, with residents numbering more than 4,661,900 as of 2008. The official flower of the state is Camellia, while the longleaf pine is considered the state tree. In addition to these interesting details, it is also good to know the size of Alabama.
The Size of Alabama
What is the size of Alabama? In terms of land area, Alabama is ranked 30th in the United States. Its total land area measures 135,765 square kilometers or 52,419 square miles. Its length is measured at 531 kilometers or 330 miles. Meanwhile, its width is measured at 306 kilometers or 190 miles. The highest point in the state is Mount Cheaha, which measures 734 meters or 2,413 feet.
Additional Facts and Other Important Details
Together with other Southern states, Alabama suffered tremendous economic hardship from the time of the American Civil War up to the point after World War II. One of the major reasons for this is the continued reliance of its residence on farming and agriculture. After that tumultuous period, the state recovered significantly. From agriculture, its residents got themselves involved in various other interests like education, mineral extraction as well as heavy manufacturing.
Additionally, the state leaders tried to emphasize the importance of education. More importantly, there was an expansion of numerous military installations. The local government made some serious investments in banking, health care as well as aerospace. Heavy industries within the area continued to blossom especially in the areas of fabrication, steel production as well as mineral extraction. Furthermore, its economy at that time received a major boost from the automobile manufacturing industry.
The metropolitan areas of the state include Huntsville, Mobile and Birmingham-Hoover. In addition, you can also find Decatur, Tuscaloosa and Montgomery. The other areas are Gadsden, Anniston-Oxford, Auburn-Opelika, Dothan and Florence-Muscle Shoals.
Alabama has a temperate climate, featuring an annual temperature averaging 18 degrees Celsius or 64 degrees Fahrenheit. In the southern parts, the temperature is warmer because of the proximity of the state to the Gulf of Mexico. The average yearly rainfall is 1,400 millimeters or 56 inches. The major agricultural outputs in the area are peaches, soybeans and milk. These also include vegetables, cattle as well as poultry.